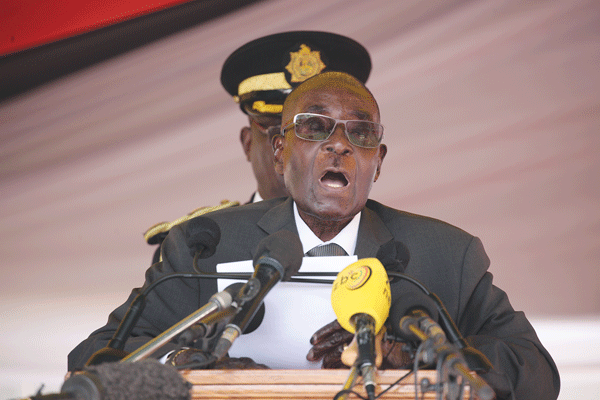 LITTLE-known late Central Intelligence Organisation (CIO) western region director Zenzo Ntuliki, accorded national hero status by President Robert Mugabe, helped former Vice-President Joshua Nkomo escape State security agents in the early 80s, Southern Eye has learnt.
BY RICHARD CHIDZA
Ntuliki, a virtual State secret agent in his own right, has political figures in Matabeleland groping for information to understand his background and contributions to the region and the country with little success.
People's Democratic Party (PDP) secretary-general Gorden Moyo, however, said information had since emerged that while Ntuliki's past remains ultra-secretive, he helped Nkomo during the Gukurahundi era.
"His is a dark past that is shrouded in mystery. I guess it goes with the territory, but the least we expected was that those in Zanu PF and government would have some idea as to who he really was.
"But we have since learnt that he helped then Zapu leader Nkomo to escape death with Mugabe in hot pursuit. You know that time Nkomo is said to have disguised himself as a woman and escaped to Botswana. Ntuliki is said to have been his fixer," Moyo told Southern Eye yesterday.
"Besides this, there is very little to go by. I have tried to understand why Mugabe would accord him hero status when he has denied well-known people from the region and we are still to get answers."
Mugabe unleashed a North Korean-trained crack military unit known as Fifth Brigade under the guise of hunting down a handful of armed dissidents. The campaign led to widespread massacres that left over 20 000 civilians dead and millions displaced.
The Zanu PF leader has described the sordid period as a "moment of madness" coming short of offering a public apology.
Nkomo, then leader of liberation movement Zapu that had lost the country's first all-race elections in 1980, was hounded out of the country in a hail of bullets, leaving some of his aides dead. He fled to Britain only to capitulate and agree to a unity arrangement with Mugabe before he took up the position of VP that he held until his death in 1999.
Intelligence minister Kembo Mohadi also revealed some top Zanu PF officials did not know Ntuliki.
"Of all the members of the politburo only five said they did not know him [Ntuliki]," Mohadi told mourners while conveying the ruling party's decision to confer the top goon with national heroes status.
Another opposition leader, Welshman Ncube, of the MDC also said he knew "nothing" about the national hero. "I really do not know the guy," he said.
Cryptically, Zapu secretary-general Strike Mkandla would not be drawn into discussing the issue.
"I cannot tell you what we know. You need to talk to our national chairman," he said.
Mkandla, however, said he did not have his party chairman's contact number.
Ntuliki was a member of Zapu's intelligence arm during the liberation struggle then led by the opposition party's current president Dumiso Dabengwa and will be buried today. Dabengwa is currently out of the country.