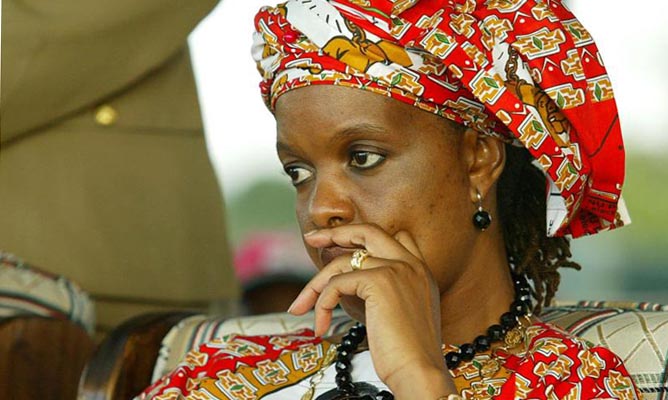 OPPOSITION parties have blasted, First Lady Grace Mugabe over the impending eviction of close to 100 families from Arnold Farm in Mazowe, saying such an attitude spoke volumes of how she was divorced from the suffering of ordinary citizens.
BY OBEY MANAYITI
Government officials reportedly started pegging the farm last week and advised villagers to move out soon to pave way for Grace's takeover.
Villagers yesterday said they were seeking legal counsel on how to block the move.
MDC-T presidential spokesperson Luke Tamborinyoka said the attitude showed arrogance.
"It speaks to the callous attitude that is now prevailing in the First Family that they are living in their own world far from the desperate and suffering people of Zimbabwe," he said.
"They bought a ring for $1, 4 million yet the majority of Zimbabweans are surviving on less than $1 a day. It speaks to the arrogance of the First Family and they are divorced to the current suffering of the people."
NPP spokesperson Jealousy Mawarire added: "The situation that currently obtain where every piece of land that has been acquired through the land reform programme is owned by the President of the country is untenable, hence what we are seeing in Mazowe now where the wife of the President is evicting people. We have said as a party that the land reform needs to be rationalised and this is exactly why we are advocating for that."
Transform Zimbabwe leader Jacob Ngarivhume described the eviction of villagers as a tragedy.
"This shows the heart and character of the people who are in charge of the nation. Their hearts are cold and they are selfish. This is the tragedy Zimbabwe is having and the best way is to make sure that they are removed from office in the next election," Ngarivhume said.
MDC spokesperson Kurauone Chihwayi weighed in saying: "Zimbabwe has an irresponsible and ruthless First Lady, who does not fear God. Her husband (President) Robert Mugabe should stop her from harassing poor and landless people. The State House and G40 comedian should spare the poor."
People's Democratic Party spokesperson Jacob Mafume said it was unfortunate that leaders were competing with each other to make Zimbabweans miserable.
The Vendors Initiative for Social and Economic Transformation (Viset) leader Samuel Wadzai said evicting the villagers was not only unfair but unacceptable.
"We expect the First Family to protect the citizens and not to be at the centre of perpetrating abuses against the citizens. What is happening in Mazowe is a clear violation of human rights and it looks like grabbing other people's properties run in her blood," he said citing Grace's distribution of goods confiscated by Zimra.