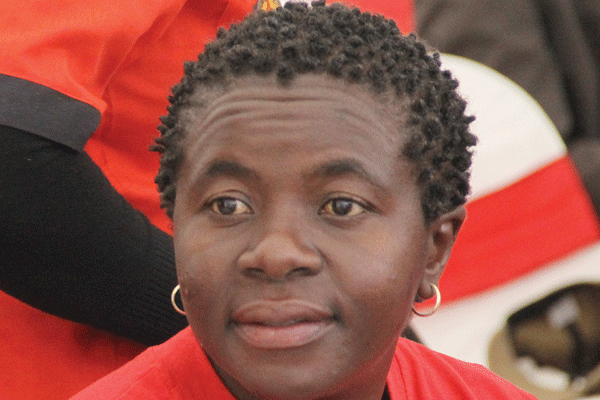 HARARE West legislator Jessie Majome (MDC-T) has claimed that her recent removal as chairperson of the Parliamentary Portfolio Committee on Justice was politically-motivated, as some of the decisions passed by her committee had unsettled ruling Zanu PF bigwigs.
BY VENERANDA LANGA
Majome was recently replaced by the ruling party's Ziyambi Ziyambi, with National Assembly Speaker Jacob Mudenda, saying the move was necessitated by the fact that the MDC-T's numbers in the House had been reduced, hence, its MPs could only lead fewer parliamentary committees.
Mudenda added that the action was in line with provisions of Parliament's Standing Rules and Orders Committee (SROC). Committee member and former Justice deputy minister Fortune Chasi (Zanu PF Mazowe South) also said Majome's removal from chairing the committee was procedural.
But, Majome, who chaired the committee since 2013, insisted she was targeted because of her firmness.
"There is no section that allows them to depose me of chairing the committee. There is none as far as I know. It is politics, and my political antenna tells me that I was causing discomfort in the way that I led the committee. My interpretation of my ousting is that I had been dealt with decisively," she said.
Since its inception in 2013, Majome's committee dealt with some of the country's highly-contested political issues, among them election Bills, judiciary issues, human rights and various commissions.
The committee members were occasionally subjected to verbal and physical assaults by Zanu PF activists, particularly during public hearings.
Majome said despite the setbacks, she believed she acquitted herself well as a human rights activist and inculcated a spirit of constitutionalism in the country.
"It is a strategic committee and it does not make sense that Zanu PF can play an oversight role over decisions made by their own Executive," she said.
"I have always doubted whether Zanu PF MPs appreciate the legislative oversight role because, in the House, they actually defend the Executive. They are like Parliament cheerleaders of the Executive and yet they are supposed to provide oversight. What it means is that if that cheerleading happens in our committees as well, then our democracy is all the poorer."
Ziyambi admitted being accused in the past of disrupting public hearings by the committee, but blamed the media for misinterpreting the facts.
"When I made suggestions that the chairperson must allow people to talk, I was misunderstood and the next thing reporters were accusing me of disrupting the public hearing. The misunderstanding was because of the political divide," he said.
Ziyambi denied suggestions that Majome's removal was a political ploy to give Zanu PF an upper hand ahead of the 2018 general elections.
"At the beginning of each session, the SROC looks at the ratio of MPs and if you have fewer members, it means you chair fewer committees. The MDC-T expelled their MPs and the balance in committee chairmanship shifted.
"I will not look at political connotations, but will do my job well. I agree the committee I chair deals with contentious issues, for example, elections, and such issues are like football matches which are often contested. This committee deals with core issues," he said.
It was not immediately clear why Parliament only acted now, as MDC-T expelled its members in early 2015.