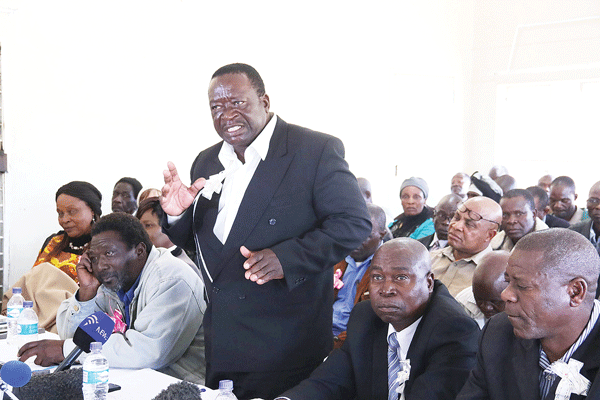 WAR veterans have indicated that they will soon organise an indaba to choose a successor to President Robert Mugabe, describing as "pure madness" the recent Zanu PF decision to endorse the veteran politician's candidature for the 2018 presidential race.
BY RICHARD CHIDZA
Zimbabwe National Liberation War Veterans' Association (ZNLWVA) secretary-general Victor Matemadanda told NewsDay yesterday that the former freedom fighters would not back Mugabe's candidature for the first time since independence in 1980.
"We have not made a decision, but we will be consulting. In the next two months, we will gather all war veterans to find a solution," Matemadanda said.
"However, we are very clear that the madness that came out of the Zanu PF conference early this month cannot be supported by any right-thinking Zimbabwean.
"No Zimbabwean with their head screwed properly to their body will repose their trust for five years in an old man who will be 100 years old when their term ends."
Mugabe met the war veterans in April as tempers flared following an abortive gathering that was disrupted by police using teargas and water cannons. The Zanu PF leader apologised, but the die had been cast and matters came to a head following a meeting of war veterans' structures at the end of July.
At the conclusion of the no-holds-barred indaba, the group — which has over the years helped Mugabe entrench his rule including by using foul means — released a damning communiqué branding the Zanu PF leader "genocidal". Mugabe, who has led the former guerilla movement for 40 years, was also accused of manipulating party processes, including internal liquidation of colleagues to stay in power, and running down a once promising economy.
But, the former freedom fighters rejected ownership of the damning statement instead blaming a faction within Zanu PF known as G40 reportedly led by party commissar Saviour Kasukuwere and viciously opposed to Vice-President Emmerson Mnangagwa's bid to succeed Mugabe as the authors.
Since then, the veteran ruler has been groping for the vital support of the war veterans with little success. Matemadanda called for a return to the liberation struggle ideals as well as an urgent change of leadership in Zanu PF.
"As war veterans, our idea is to go back to the liberation war ethos and find leaders who will remember that they are in their positions to serve Zimbabweans and not self-enrichment. We cannot be seen to be supporting someone who has presided over the decay of the economy," he said.
"It is a waste of time to support a 94-year-old as a presidential candidate and if Zanu PF really wants to continue to lead the country, it must wake up as a matter of urgency and force a change of guard at the very top. They must allow the new leader time to consolidate and set their vision before the elections in 2018. Our prediction is that 2018 will be even worse than 2008 for Zanu PF unless something dramatic happens in the next 12 months."
Contacted for comment, Kasukuwere, however, urged war veterans to stay away from the ruling party's internal politics.
"Please leave our candidate alone. Zanu PF has made a decision and nobody can change that," Kasukuwere said. "These people are former Zanu PF members and we are left wondering why they should care how we go about our business."