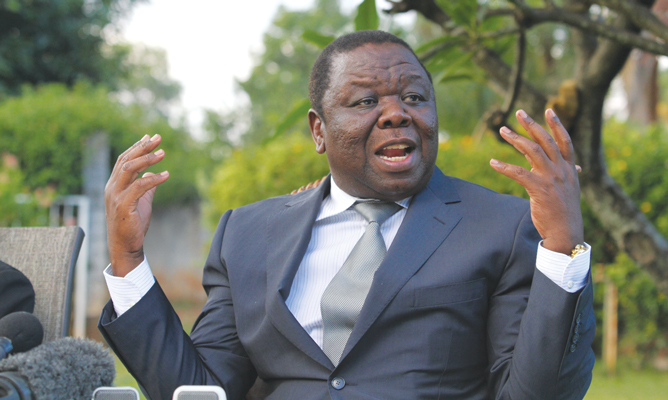 MDC-T leader, Morgan Tsvangirai (pictured) and his Zimbabwe People First counterpart, Joice Mujuru are said to be in secret talks to come up with a coalition ahead of the 2018 elections.
PAIDAMOYO MUZULU
Insiders from both camps yesterday confirmed that the two opposition leaders were edging towards a deal.
"Our discussions are at an advanced stage and we did not find a reason why we had to drop our own internal talks and attend an externally facilitated process," a source said.
ZimPF spokesperson, Jealousy Mawarire, acknowledged his party was involved in coalition talks with the MDC-T, but declined to disclose more details for fear of jeopardising negotiations.
"We have agreed we will not talk to each other in newspapers, neither will we, at any point, be persuaded to divulge details of our discussions with any political party in newspapers. Our discussions with anyone remain confidential," he said.
MDC-T vice-president, Nelson Chamisa said the party's leadership would be meeting its structures soon to appraise them on the coalition discussions.
"Our national executive committee and the national councils will be meeting soon to define parameters and benchmarks on convergence and consensus on conditions of elections and the electoral framework," he said.
Tsvangirai last week scoffed at the talks held in Cape Town, South Africa, saying he preferred home-grown solutions without influence from outsiders.
The talks in Cape Town were attended by leaders of MDC, Renewal Democrats of Zimbabwe, People's Democratic Party, Zapu, Mavambo/Kusile/Dawn, Zanu Ndonga and Zunde, among others.
The group's spokesperson and MKD leader, Simba Makoni yesterday said they were ready to incorporate political players who did not attend the talks in South Africa at their follow-up meeting provisionally scheduled for Nyanga, later this month.
Makoni, however, said his group would not be held to ransom by parties that do not want to join the coalition.
"No one has a power of veto in the coalition and the train has left the station. Those who want to board are welcome, but they can only do that at the next station. We are not waiting for anyone. No one should be allowed to hold the nation to ransom," he said.
The latest development further dissipates any likelihood of a grand coalition of all opposition parties ahead of the 2018 polls, as various party leaders accuse each other of being insincere.
The country's estimated 42 opposition parties have been meeting under two loose coalitions, namely the Coalition for Democrats and National Electoral Reform Agenda, mainly to push the Zanu PF government towards implementation of electoral reforms before the next elections.