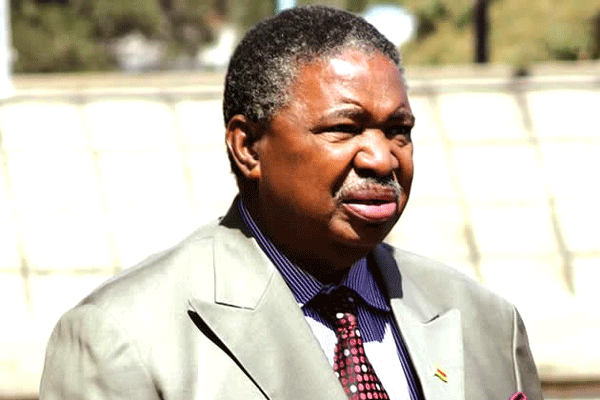 VICE-President Phelekezela Mphoko and Foreign Affairs minister Simbarashe Mumbengegwi are some of the biggest Parliament bunkers, the National Assembly heard on Wednesday.
by VENERANDA LANGA
Kuwadzana East MP Nelson Chamisa (MDC-T) read names of ministers, who continuously absented themselves from the National Assembly's question-and-answer sessions.
"We know Mphoko only comes to the House during official opening of Parliament and the National Budget, and that Foreign Affairs minister Simbarashe Mumbengegwi is the number one truant minister to the extent he is now even foreign to this Parliament," Chamisa said.
"Youth minister Patrick Zhuwao is another truant minister and he is even going to the extent of harassing our Parliamentary Portfolio Committees and he must be dealt with because his behaviour is untoward."
Other ministers named include Simon Khaya Moyo (Policy Co-ordination), Kembo Mohadi (State Security), Ignatius Chombo (Home Affairs), David Parirenyatwa (Health and Child Care), Jonathan Moyo (Higher Education), Samuel Undenge (Energy), Douglas Mombeshora (Lands), Nyasha Chikwinya (Women Affairs), Obert Mpofu (Macro-Economic Planning) and Saviour Kasukuwere (Local Government).
Most deputy ministers were also reportedly bunking Parliament.
Chamisa told Deputy Speaker of the National Assembly, Mabel Chinomona, that all the truant ministers must be charged with contempt of Parliament.
"On a specific date and day, which is a Wednesday, ministers choose to go away without official leave (Awol) and we have to read the riot act invoking the statutes of our Parliament. This is nothing vindictive or personal. It is in the national interest to make sure the monies that are paid by taxpayers are accounted for," he said.
MDC-T chief whip, Innocent Gonese said the Speaker of the National Assembly must inform the House every Wednesday of ministers who would have sought leave of absence and those who bunked.
"We want those letters produced before us so that we know which ministers have complied with the provisions of Standing Orders," he said.
Parliament Standing Order number 63 stipulates no Vice-President, minister or deputy minister can absent themselves without the leave of the Speaker.
Vice-President Emmerson Mnangagwa promised to study the matter and deal with the truant ministers, saying it was a very serious issue.