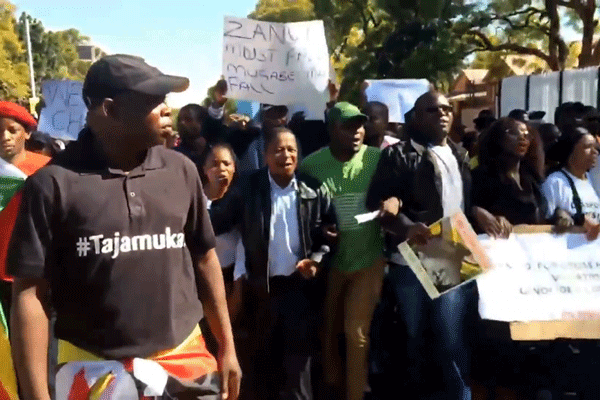 ABOUT 20 members of the Tajamuka/Sesijikile pressure group yesterday defied a police ban on public demonstrations and stormed the premises of the Registrar-General's Office in Highfield, Harare, demanding the speedy implementation of electoral reforms.
BY OBEY MANAYITI
The demonstrators, led by Tajamuka spokesperson, Promise Mkwananzi and Denford Ngadziore, said they would continue piling pressure on the government to implement the reforms to level the political playing field ahead of the 2018 general elections.
Mkwananzi said their demands included a localised voter registration process to allow youths to register.
"We are saying people should be allowed to register at local level, so that they don't incur transport costs in going to register to vote in town. However, we have realised that in most high-density areas, officials are refusing to let people register and they are telling them to go to town. To us, this shows that the Zimbabwe Electoral Commission (Zec) hasn't reformed at all," he said.
"As Tajamuka, we will not allow an election to take place under such circumstances. We can't allow a situation, where unemployed youths and others are forced look for money to go into town to register to vote, yet there are some sub-offices in their localities, where the same can be done. Things must change and we will be amplifying the demonstrations at different offices."
Ngadziore said officials in charge of voter registration fled after being quizzed by the Tajamuka team on why they were turning away prospective voters.
"They can run, but we will catch up with them. We will pursue the matter until we get a satisfactory answer on why people are not allowed to register at local level. We are fully behind Nera (National Electoral Reform Agenda) on this one. There are no major elections to take place until people are allowed to register freely," he said.
Nera has been staging demonstrations in Harare and others parts of the country calling for Zec to level the electoral playing field. But, top Zanu PF officials have vowed not to accede to the electoral reform demands, saying they cannot allow to be reformed out of power.