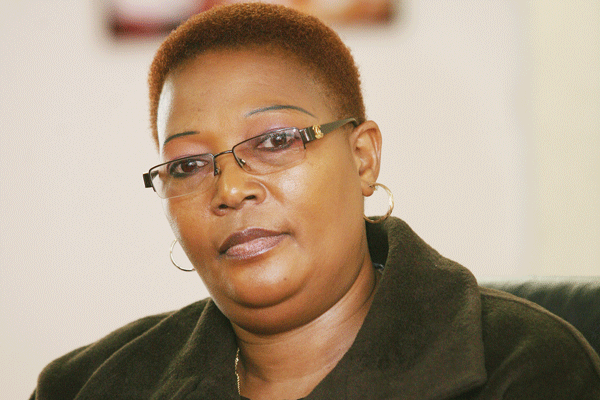 MDC-T's 17th anniversary celebrations in Bulawayo at the weekend almost turned farcical, as supporters of the party's three deputy presidents jeered and denigrated each other through song and interjections, as factionalism took centre stage.
BY NQOBANI NDLOVU
On Saturday, factional undercurrents among party members were evident at White City Stadium, where deputy president, Thokozani Khupe's supporters interjected proceedings to show their solidarity with her, following the appointment of Elias Mudzuri and Nelson Chamisa as joint deputies.
As if to show her power, Khupe arrived at the stadium well after Morgan Tsvangirai, Mudzuri, Chamisa and other delegates had taken their seats.
Upon her arrival, many people, mostly women, celebrated her entry, with songs venerating Khupe, saying she would not lose her stature. At some point, Chamisa was booed as he spoke, although Mudzuri was spared the insults.
Khupe had all along been touted as Tsvangirai's heir-apparent, but the recent appointment of Mudzuri and Chamisa was viewed by Khupe's supporters as part of a plot to torpedo her rise to the presidency.
Sensing that the divisions ran deep, former Zanu PF legislator, Temba Mliswa, Chamisa and Mudzuri called for unity among supporters in the Tsvangirai-led opposition party, saying divisions had the potential to derail the party's 2018 election preparations.
Mliswa, who leads the Youth Advocacy for Reform and Democracy (Yard), called on MDC-T supporters to shun factionalism and embrace unity despite their differences.
"The secret that I have for Zimbabweans is that we have to rally behind Tsvangirai in our own different ways. God wants to see how united you are as a party. It is a test as a party," he said in his solidarity message.
"As a government-in-waiting, show us unity among yourselves. If you are not able to be united, don't blame Zimbabweans for not voting you.
"We are not just joining in opposition politics, but we are following in your (Tsvangirai) footsteps. You inspire us, we learn a lot and your courage inspires us. It is never easy to get united but the leadership of Tsvangirai is inspiring."
Mudzuri chipped in saying: "What we did in the 2008 election, we can also do it in 2018. We can get the same number of votes and more to defeat Zanu PF in the next elections, as long as we remain united as a party and shun divisions."
Chamisa weighed in, saying the need to embrace unity "is a necessity, as we prepare for 2018 elections to claim victory against Zanu PF".