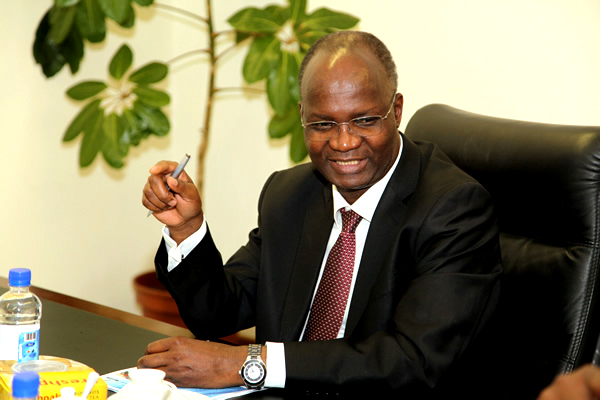 Higher Education minister Jonathan Moyo has threatened to withdraw degrees from graduands who engaged in a wild-cat protest against President Robert Mugabe during a graduation ceremony at University of Zimbabwe on Thursday.
BY RICHARD CHIDZA
Moyo used Twitter to show his anger over the students' actions.
"Just because one is Mr Dombo does not mean they should throw stones everywhere anytime. Disrupting a graduation ceremony can cost a degree!" Moyo warned.
Moyo was referring to former Zimbabwe National Students' Union (Zinasu) president Tonderai Dombo's unprecedented protest in which he stood on his chair and waved a placard in Mugabe's face demanding jobs. Mugabe, who is the institution's chancellor, was getting ready to cap over 3 000 students.
While there were rumours that at least three Masters graduates had refused to be capped by Mugabe, Moyo scoffed at the suggestions. "The claim that any graduate refused to be capped at UZ yesterday is only true in the heads of the lot of fakes out there!" the Higher Education minister said.
Moyo also took issue with the other protesters who it appeared he had identified.
"If varsity dropouts like Bill Gates can create jobs, then graduates like dreadlocked Thembinkosi Rushwaya should be expected to do better!" he said, adding a picture of the other two demonstrators.
Dombo shocked all when he stood on his chair facing Mugabe and raised a placard with the words: "Graduates today, marovha mangwana (loafers tomorrow), tipei mabasa (give us jobs)."
Mugabe's aides immediately leapt at Dombo and whisked him away to avoid further embarrassing the 92-year-old Zanu PF leader, whose administration has been under a barrage of criticism both at home and abroad.
Dombo yesterday confirmed he had been released after paying a $10 fine.
"We slept at Harare Central Police Station and the three of us along with Alexander Mukamba and Rushwaya were asked to pay a fine for criminal nuisance," Dombo told NewsDay.
Zinasu, through secretary-general Makomborero Haruzivishe, denounced Dombo's arrest, describing it as an infringement of the student's rights.
Tajamuka/Sesijikile social movement also condemned the arrest, arguing Mugabe had an obligation to provide the 2,2 million jobs he promised in 2013.
Lawyer and People's Democratic Party president Tendai Biti said the UZ could legally withdraw the degrees.
"It is not possible because those protesters are no longer students because they have graduated. They obtained those degrees because of academic conduct, not as a donation," Biti said.
"Even if they were a result of donation there is still procedures and legal routes to be followed. They can take away Grace (Mugabe First Lady)'s degree because it was an honorary one."
Mugabe has since July this year braved demonstrations from members of the public, political parties and civic groups, bitter over his alleged misrule, non-delivery of his government's promised jobs, police brutality and government plans to introduce bond notes despite resistance from the citizens.