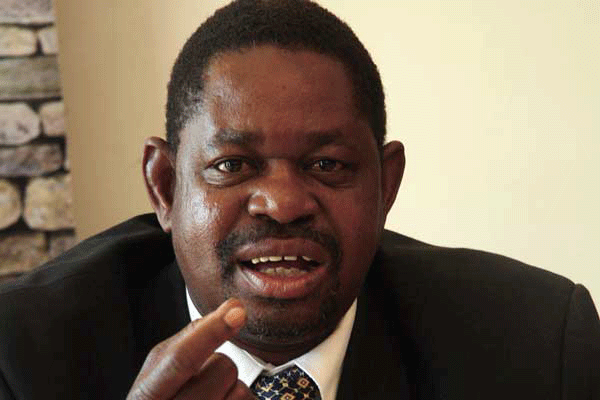 FORMER Copac co-chairperson and Zanu PF central committee member Munyaradzi Paul Mangwana has challenged Zimbabweans to demand the full implementation of provisions of the new Constitution, saying the State would not give those rights on a silver platter.
by XOLISANI NCUBE
Speaking in Harare yesterday at an Alpha Media Holdings (AMH)-organised public meeting on the state of constitutionalism, Mangwana said most of the challenges being experienced were a result of lack of a transitional mechanism.
"If we did like the Kenyans, who put up a special committee to ensure the implementation of the new Constitution, we would have been in a better position," he said.
The former Cabinet minister said the Executive would not fully implement the new Constitution without being pushed as some of the new provisions reduced its power by giving it to citizens.
"Politicians won't make an effort to reduce their own powers unless pressure is put on them by civil society," he said.
The discussion also featured former Finance minister Tendai Biti, Harare West MP Jessie Majome and Zimbabwe Democracy Institute director Pedzisai Ruhanya.
"The Constitution obligates the State to teach its civil service, police, and students about the new obligations as well as its provisions. So if that is not being done, there is a problem. People ought to challenge the Executive like what my learned colleague Biti and others are doing in the courts," Mangwana said.
Biti in his presentation said Zimbabwe's democratic struggle should go beyond constitutionalism. He said the State was currently in a transitional mode and was trying to undo what had been introduced by the new Constitution.
"Let us change the narrative from locating ourselves in one condition of political parties, let us decentralise this fight and take the fight. We have had 12 elections in Zimbabwe, but nothing has sufficed because of the electocentric authoritarianism," Biti said.
Majome said despite signing the new Constitution into law, President Robert Mugabe behaved like he had not read it.
"I don't believe the President has read the Constitution even though I saw him signing it. I am saying so looking at the way he attacked judges," Majome said.
"He acts as if he does not know that there is something called separation of power. He is acting like new wine in an old bottle." Ruhanya said Zimbabwe has politicians who do not subject themselves to the Constitution of the land.
"The Constitution represents the ought to be, the ideal, but what is the reality? What is the nature of the State that is governing us? We need to understand the political economy of our country," Ruhanya said.
The conversations are hosted by AMH, publishers of NewsDay, Zimbabwe Independent and The Standard in partnership with international humanitarian organisation, Hivos and the Netherlands Embassy of as a way of engaging ordinary citizens in dialogue on national issues.