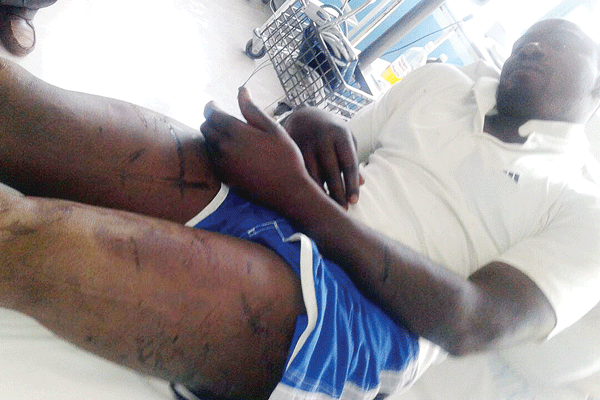 Another activist and vendors' leader, Kudakwashe Kambakunje, was on Tuesday allegedly abducted by suspected State security agents, who tortured and injected him with an unknown substance before leaving him for dead.
BY XOLISANI NCUBE
National Vendors' Union of Zimbabwe (Navuz) leader, Standrick Zvorwadza, said Kambakunje was allegedly abducted in broad daylight from his vending site by six people driving five unmarked twin-cab and Toyota Chaser vehicles.
"During the abduction, some traders attempted to assist him when he shouted for help, but his abductors fired shots in the air," Zvorwadza claimed.
"Kudakwashe was blindfolded and driven to an unknown destination in Mazowe, where he was subjected to severe beatings, torture using electrical shock and injected with an unknown substance."
Kambakunje, a Navuz executive member, joins a growing list of anti-government protesters who have been abducted and tortured by suspected State security agents.
Recently, Tajamuka/Sesjikile campaigner, Silvanos Mudzvova, was kidnapped from his Crowborough home by people accusing him of pushing to unseat the Zanu PF government. He was also badly tortured and injected with an unknown substance and spent over three weeks in hospital.
Zvorwadza said the "coward abductors" were strengthening the resolve of anti-government demonstrators to push President Robert Mugabe out of power.
"During the torture and interrogation, his abductors demanded to know Zvorwadza and committee member Godfrey Kauzani's residential addresses," Zvorwadza said.
"When he passed out, the abductors thought he was dead and dumped him. When he came to, Kudakwashe, who had been left stark-naked, sought help from homesteads on farms along Old Mazowe Road. Navuz members collected him from Mazowe and facilitated his access to medical assistance."
Police spokesperson, Senior Assistant Commissioner Charity Charamba said she was unaware of the incident, as she had not been briefed. Crisis in Zimbabwe Coalition (CiZC) said it was concerned with the increase in State-sponsored abductions and victimisation of civic and opposition activists over the past months.
"Mugabe has shown that he is not prepared to resolve the Zimbabwean crisis, but is rather prepared to shed blood to defend his stay in power," the group said.
"CiZC calls upon regional, continental as well as international bodies to intervene urgently to prevent further loss of innocent lives in Zimbabwe. CiZC also calls upon progressive forces to unite in creating the Zimbabwe we want — a democratic and economically-developed Zimbabwe."