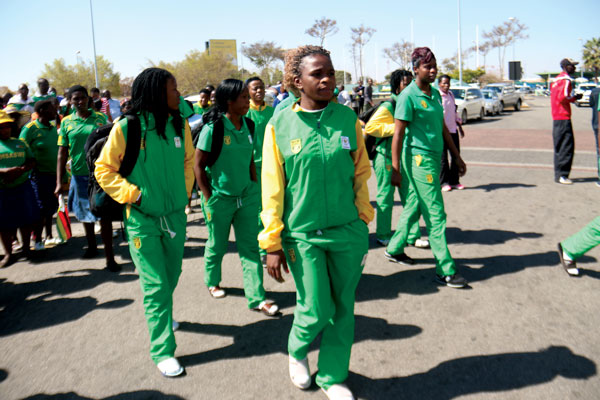 THE MDC-T has condemned the ill-treatment of the Mighty Warriors by sports authorities, who welcomed the team from the Rio Olympics on Friday, with a paltry $5 allowance as a reward, describing it as diabolic.
BY SPORTS REPORTER
The party's shadow Sports and Recreation minister, Clifford Hlatywayo, said they were concerned about the ill-treatment afforded to the women's football team by the Zimbabwe Olympic Committee (ZOC).
ZOC allegedly offered the players only $5 each on their return ostensibly for transport to their respective homes.
The MDC-T, like many other Zimbabweans, saw the $5 offer as an insult to the women's team and accused ZOC and the country's football mother body Zifa of neglect.
"MDC-T is greatly concerned and at the same time worried by the ill treatment of our Mighty Warriors, who were returning from their maiden appearance at the Olympics in Rio, Brazil. Zifa instead of showing these Olympians appreciation on their achievement and for raising our national flag high at an international fora, the Philip Chiyangwa-led association decided to baby dump the soccer heroines in the capital," Hlatywayo said in a statement.
He said that professionally run sports associations should recognise and reward hard work like what the Mighty Warriors did in Brazil.
While the Mighty Warriors lost all their three group matches to bow out of the competition at the initial stage in their debut appearance, they won a lot of admirers due to their spirited performances.
"Besides bringing enjoyment to the fans, sport is a source of income for the talented athletes. How come a serious national body can decide to give our Mighty Warriors $5 each on their return from Rio 2016? The national team was ferried from the Harare International Airport in a run down school bus to town just to be given $5 to get public transport to their respective homes and on empty stomachs," Hlatywayo said.
"We strongly condemn this diabolic act. It is not only unprofessional, but also counterproductive and cruel both to the athletes and their families. Imagine the breadwinner returning from work with only $5. Chiyangwa and Sport minister Makhosini Hlongwane, are answerable and must be put to order," said.