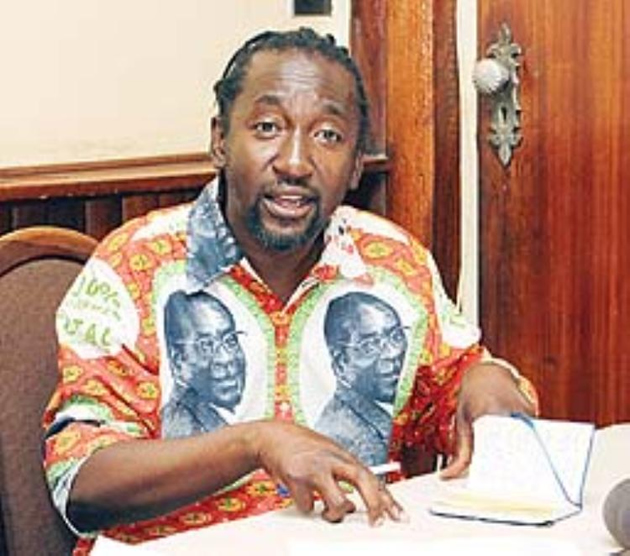 Zanu PF activist Acie Lumumba has opened a can of worms alleging that Indigenisation minister Patrick Zhuwao "is a corrupt and extortionist public officer bent on enriching himself through illegal dealings".
BY OBEY MANAYITI/XOLISANI NCUBE
In a no-holds-barred video posted on social media titled #dig deeper, Lumumba said Zhuwao, who is President Robert Mugabe's nephew, was rotten and not fit to hold any public office.
Ironically, Zhuwao appointed Lumumba as chairman of the Zimbabwe Youth Empowerment committee on April 10, but sacked him on Wednesday on allegations of misusing funds for the Zimbabwe Youth Council.
Lumumba accused Zhuwao of attempting to use the indigenisation policy to enrich himself by particularly trying to fleece Old Mutual 3% of its stake, something he described as the source of the fall-out between the two former bosom buddies.
"We have public officials in this country, Minister of Youth Development, Indigenisation and Economic Empowerment Patrick Zhuwao, who is abusing public office for personal gain, and I got fired for that," Lumumba said while giving a background to the source of his problems.
Zhuwao, however, refuted the allegations, saying they were false. He said he was justified to sack Lumumba because of conflict of interest in the work that he was doing.
"That is false," he said in Harare yesterday.
"Everybody is entitled to freedom of expression, but if there is any impropriety, I think the proper thing to do is to report it." The two, widely believed to be members of the Zanu PF Generation 40 faction led by First Lady Grace Mugabe, reportedly crossed swords over the handling of the youth funds with Zhuwao demanding that the money from Old Mutual be handled by government, while Lumumba was advocating for private companies to take over and distribute to young people.
Lumumba, who was appointed by Zhuwao to chair the Zimbabwe Youth Empowerment Strategy for Investment, was fired hardly a week after his appointment following irreconcilable differences between the two.
The losing Zanu PF candidate for Hatfield was accused of misappropriating youth funds as well as having conflict of interest in the management of the funds as his firm, Cornerstone Investment, provided consultancy services to some of the companies that were to fund youth projects.
Among the firms he was reportedly working with include Old Mutual and, according to Lumumba, Zhuwao had demanded a 3% stake in the business.
"The minister called me to his office last Friday and in his office were Brigadier-General Dziwema and Ranga Nyamurundira. He gave me an ultimatum and blackmailed me. He told me I was going to be fired unless I deliver 3% of Old Mutual to his office on Friday and I couldn't do it, my conscience wouldn't allow me to," Lumumba claimed.
Zhuwao has since his appointment, been fighting with fellow ministers, in particular Finance minister Patrick Chinamasa, and the business community over the implementation of the black empowerment law until Mugabe's recent intervention stopping his bid to shut down foreign-owned firms that failed to comply with the law.
"Today, I am under attack because I refused to agree with the President's nephew. Over the last seven months, he has taken the whole country almost off the rails because he was trying to shut down foreign companies so that they could all give equity, God knows to whom," Lumumba said.
The youthful politician alleged that Zhuwao, through his close ally, one Thandiwe, demanded money from people who wanted to see him and charged them for his signature.
Lumumba threatened to "spill" more information if Zhuwao tried to dispute anything from what he alleged in the video and promised to release more damning secret recordings that also implicated other unnamed top Zanu PF officials.
Zhuwao however said: "It's important to know that when you have information of something that must have gone wrong, you must not threaten to reveal it, it's your obligation to reveal it. You must never threaten to be a person of integrity. Integrity is never something that you threaten, you do and you just become an honourable person."
Repeated efforts to contact Nyamurundira and Dziwema for comments yesterday were fruitless.
The public spat between Zhuwao and Lumumba, widely believed to be in Grace's camp, which is battling to succeed President Mugabe against Team Lacoste which is sympathetic to Acting President Emmerson Mnangagwa, is set to expose more rot within the governing party.
On several forums, Mugabe has spoken hard against corruption, but his inner circle has always been fingered in many shady deals and nothing has been done to them.