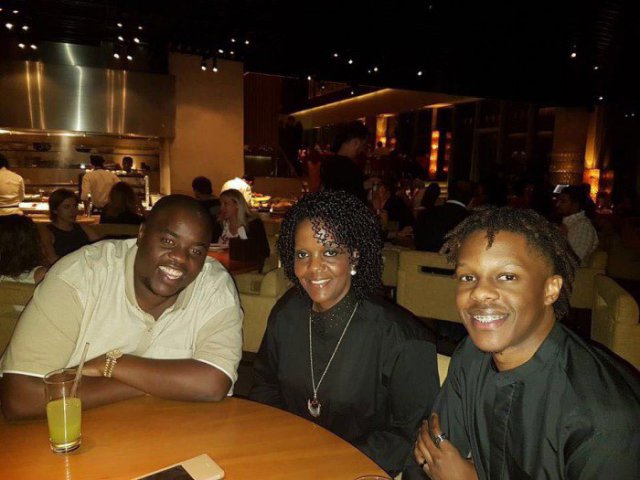 ZIMBABWE'S social and political scenes are dominated by arrogance, and impunity. Be it a sport that should entertain, or public figures that are meant to be leaders, our nation is now defined by arrogant gangster-like pig-headedness.
Maynard Manyowa
When controversial businessman Wicknell Chivayo fell out with stand-up comedian Carl Joshua Ncube, his response was to threaten to have the comic killed.
Weeks later, when the former picked another brawl with Higher Education minister, Professor Jonathan Moyo, he signed off his rant by saying: "Mubve maziva kuti hapana kana chamunombondiita" (Be advised that there is absolutely nothing you can do to me).
He had just before reminded the minister, whom he comically referred to as "Jonono", that he too was "Zanu PF through and through".
The motor mouth ex-convict rubberstamped his threats by uploading pictures of himself dining with First Lady Grace Mugabe in Dubai. His message was clear: "I know the Mugabes on a first name basis, so do not mess with me!"
While Chivayo might be easily dismissed as a man who engages his mouth before he puts his brain into gear — and rightly so — his claims are a symptom of a much larger problem — abuse of power and / or links to powerful figures.
A few years ago, the Harare wing of the Zanu PF Youth League was a feared monster. It controlled public bus terminuses through proxies (rank marshals), collecting thousands of dollars in protection fees and taxes from commuter omnibus operators.
Rank marshals, or mandimba-ndimba (strong men) as they were called were above the law. They drove on the wrong side of the road, and demanded protection fees from motorists. They had everyone running scared, including police and council officials. Their activities were blatantly illegal, but they were Zanu PF, and no one would dare go against them.
As we speak, Zanu PF ministers are often at each other's throats and in public. If and when criticised, their first action has been to remind everyone that they are Presidential appointees, and disagreeing with them was akin to disagreeing with President Robert Mugabe. In a Mafia State, going against the Godfather is a cardinal sin.
When Zanu PF youth secretary Kudzai Chipanga found himself in a spot of bother, having broken the law by calling on youths to arson the offices of The Herald, and threatening war veterans with violence, his first defence, too, was to reiterate his loyalty to Mugabe.
The cancer extends to the most rural and remote communities, too. A few weeks ago, I travelled to the tobacco auction floors accompanying a friend and fellow farmer, who was selling his produce at the auction floors.
While queuing outside, I easily noticed a group of dirty-looking and intoxicated hoodlums, who moved around the markets adjacent to the premises carrying knobkerries and behaving in a rowdy manner.
They demanded protection fees from the struggling vendors, and harassed and bullied the farmers who were in the general vicinity. They wore Zanu PF youth regalia, so the police ignored them.
Even in the barren lands of Mazvih\wa, my rural home, some families are more equal than others.
With loose links to the ruling party, they intimidate and bully their neighbours repeatedly. When food relief and aid arrives, they take their bounty first, and leave the rest of the villagers to share the spoils.
Clever readers will have noted by now that the common denominator in all these instances is abuse of perceived links to powerful individuals who have access to and can manipulate Zanu PF and State machinery to make the lives of their fellows unbearable.
It goes back to the kind of society created by 36 years of Zanu PF totalitarian rule. The country has been governed in true mafia style, and the rot has gone from the head all the way to the body and toes.
It might be the case that Chivayo, for example, is a few feet outside of sanity. It could be so that rogue youths act without the endorsement of party structures. But where Zanu PF is their weapon, the problem lies in the battle.
Our society needs to change, to one where people fear the law, the Constitution, and legal retribution, not one where everyone's trump card is who they know in Zanu PF and government.
But, of course, a fish starts to rot from the head, and until the Zanu PF Mafia State changes, we remain poisoned. That's why Joice Mujuru's approach to politics recently is impressive.
She insists on building, and her party has banned all confrontational slogans, including even the mild ones like "Down with Zanu PF!" She offers hope again that our country can someday return to a time when no one is above the law, hence becoming an instrument for abuse with impunity.
Maynard Manyowa is a political analyst and social commentator.