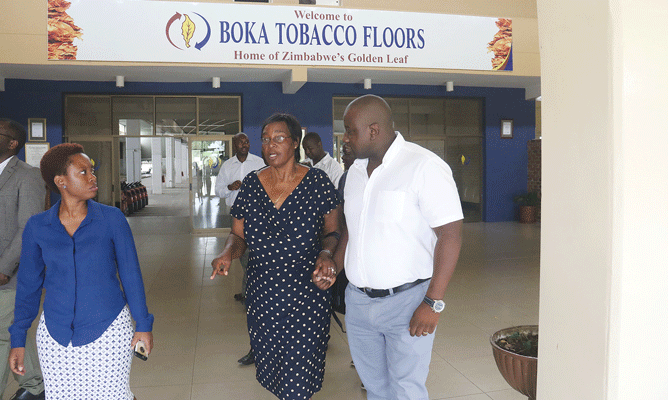 ZIMBABWE is projecting a 20% drop in tobacco output to 170 million killogrammes this year attributed to poor rainfall patterns experienced in the country.
BY VICTORIA MTOMBA
Speaking on the sidelines of a tour of three tobacco auction floors yesterday, Tobacco Industry Marketing Board (TIMB) chairperson Monica Chinamasa said the crop size would be less than last year.
"The crop size is going to decline as compared with last year by 20%," she said.
Last year, production was 198,95 million kg of tobacco earning $584 million.
Chinamasa was speaking after an inspection of three auction floors — Tobacco Sales Floor, Boka Tobacco Auction Floor and Premier — and contractors on the state of preparedness ahead of the opening of the 2016 selling season on Wednesday.
The three auction floors had put in place financial inclusion mechanisms, whereby farmers would access cash from banks countrywide.
"We are happy with what we have seen with regard to financial inclusion. We need to encourage farmers to use the banking system as that will help them. We have 30% of our population who are financially-included, we need the 70% to be also included," she said.
This year 72 000 growers have registered, down from 85 000 recorded in 2015.
Chinamasa said for this year only, one grower per family should be allowed inside the auction floors in order to reduce chaos. She said proper identification should be put in place to reduce the activities of middlemen.
Chinamasa said the auctions should embrace financial inclusion as it would help the farmers to have a track record in the banking system and help them access credit as well.
Banks such as Barclays, Standard Chartered, ZB Bank, Barclays, CABS were visible at some of the auction floors, looking ready for the tobacco selling season.
Over the years, farmers have been exposed to the danger of thieves as they would be carrying hard cash on them.
In a statement yesterday, TIMB and the Reserve Bank of Zimbabwe said all proceeds from tobacco sales would be paid through bank accounts and farmers should open them as a matter of urgency. Tobacco is one of the country's largest foreign currency earners.
Experts said the beginning of the tobacco selling season will ease liquidity constraints gripping the economy.
Tobacco prices are expected to be better than last year as major tobacco producers including India and Tanzania had reduced production, while another major producer Brazil experienced floods. Although Zimbabwe experienced problems, due to El Nino-induced drought, it is in a better position to benefit from the favourable prices, according to industry players.