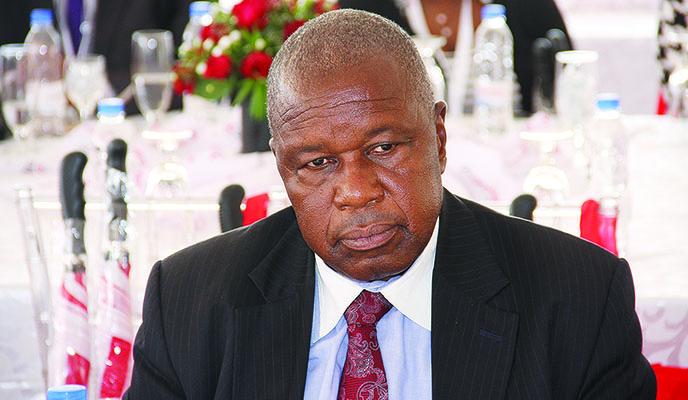 AXED war veterans' leader Christopher Mutsvangwa and his predecessor Jabulani Sibanda – who were both hounded out of their positions after being caught up in Zanu PF's factional fights – are reportedly planning to gang up against President Robert Mugabe.
BY EVERSON MUSHAVA/OBEY MANAYITI
The former foes are reportedly planning a meeting after Mutsvangwa's embarrassing ouster last week from both the politburo and government, where he served as War Veterans minister.
Although the purpose of the meeting was not clear yesterday, NewsDay understands that the two have been united by a common enemy, Mugabe, whom they now claim has been manipulated by his wife Grace and a Zanu PF faction, G40, to undermine the plight of the former combatants.
Sibanda yesterday constantly said he was in a meeting before his mobile phone later became unreachable, while Mutsvangwa referred NewsDay to his secretary-general Victor Matemadanda.
Contacted for comment, Matemadanda said: "I don't know about the meeting, but they (Sibanda and Mutsvangwa) are comrades and if we are to work together, there are procedures to be followed." "It is not like when people separate, there is no chance for working together again," he said.
"If there is need for working together, you might not need to ask, (but) you will see it happen. A lot of things happen within a revolution and you cannot rule out working together."
Mutsvangwa, strongly believed to be aligned to Vice-President Emmerson Mnangagwa's faction, played a central role in Sibanda's ouster from the leadership of the war veterans' association, accusing him of being sympathetic to former Vice-President Joice Mujuru.
Sibanda was kicked out of the ruling party in 2014 following his remarks that a bedroom coup had been staged in Zanu PF, which insinuated that First Lady Grace had usurped Mugabe's State authority.
Both Sibanda and Mutsvangwa have been very vocal in the fight for the plight of war veterans. They both challenged Mugabe before their dismissal.
Although some war veterans have pledged loyalty to Mugabe, there is growing dissent within the ranks of Zanu PF, as some members feel they are being undermined by Grace.
Matemadanda said Sibanda and Mutsvangwa could work together to address several issues affecting war veterans in the country.
"They come from different backgrounds, which, when put together, might work for the better of them all," he said ambiguously.
Matemadanda said no one could fire a war veteran from Zanu PF because of the role they played in keeping the party afloat.
"Who qualifies to more be Zanu PF – them or us? Who can fire us from Zanu PF? It is us who can fire people from Zanu PF," he charged.
"We are the right people to fire people from Zanu PF."
Former Zanu PF Mashonaland West chairman and now Youth Advocacy for Reform and Democracy (Yard) founder and national co-ordinator Temba Mliswa claimed he was working to bring the two together.
"They are likely going to meet soon. Mutsvangwa is a technocrat who focuses on policy issues while Sibanda is strong on operations and mobilising," he said.
"Nothing better comes for the country than the two working together especially when looking at their attributes.
"The two are willing to meet, but right now they are busy with their tight schedules, but I can confirm that I met both of them and asked them to meet.
"They both said they have no problems with that. They must give us the way forward on the direction the country is taking."
Meanwhile, newly-appointed War Veterans minister Tshinga Dube yesterday distanced himself from remarks attributed to him in the public media that he would soon convene a meeting for the ex-freedom fighters to elect a replacement for Mutsvangwa.
Dube said he suspected the remarks were part of a sinister plot to cause friction between him and Mutsvangwa.
"What was said in the story is not true. All I can say is I have received a baptism of fire. Mutsvangwa is still the chairman," he said.
"It is not me who chooses leaders for war veterans. They choose their own leader and they are the ones and His Excellency President Mugabe who are responsible for removing him. I never said there will be elections to replace him. I repeat: I have no power to make such a statement."
He added: "I am not a controversial figure. I don't know why this boy (Chronicle reporter) deliberately distorted facts. He called me, but decided to mix and twist facts. I had decided to keep quiet, but it is good that I have to correct this. I have no personal vendetta with Mutsvangwa. I am not the one who elected him."