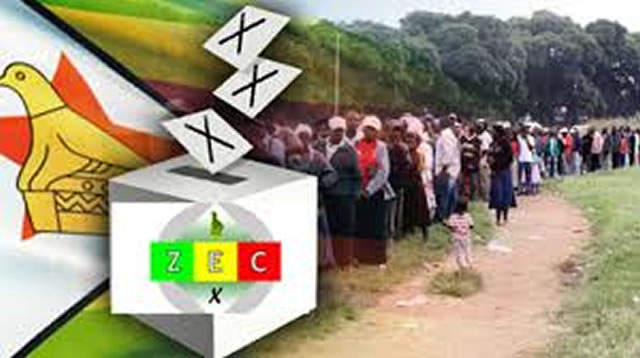 CIVIC society groups have welcomed efforts by the Zimbabwe Electoral Commission (Zec) to find ways of implementing a biometric voters' roll in Zimbabwe.
BY RICHARD CHIDZA
In separate statements issued this week, the Zimbabwe Election Support Network (ZESN) and the Election Resource Centre (ERC) called on Zec to begin consultations with local stakeholders in order to "expedite the process".
"ZESN believes that the adoption of the biometric voting system will augment the new polling station-based voting system to be implemented for the 2018 harmonised elections. In addition, the system will prevent duplicate voter registration thereby eliminating the possibility of multiple voting on election day," the election watchdog said.
ZESN director Rindai Chipfunde Vava said "adequate resources must be put in place to ensure that all the various processes are done in time for the new systems to be successful".
"There is need for the commission to conduct comprehensive voter education on the new developments to create awareness amongst the electorate to build confidence in Zimbabwe's electoral processes," Chipfunde Vava said.
The group said adopting the system would go a long way in indicating government's willingness to hold free, fair and credible elections, adding that consultations with stakeholders in time would ensure the "most appropriate type of the biometric voter registration system for Zimbabwe".
ZESN said while adoption of the polling station-based voters' roll and biometric voting system would enhance transparency and credibility of electoral processes, "there is need for proper mechanisms to be put in place to ensure the existence of an enabling political environment before, during and after the harmonised elections".
The ERC also applauded Zec for adopting the system, but called on the poll management body to ensure it remained guided by the principles of voter registration which include integrity, inclusiveness, comprehensiveness, accuracy, accessibility, an informed public, transparency and security.
ERC said "some" political parties had manipulated the manual system currently in use to subvert the law.
"Elections in Zimbabwe have previously been disputed owing to various flaws, chief amongst them being the voters' roll which has been cited as being in shambles by both local and international electoral stakeholders.
"The voters' roll that has been used before allegedly comprised of names of dead people, duplicate entries, below voting age voters and wrongly captured voter details," the ERC said, adding "the situation was compounded by the uncontrolled use of voter slips in the 2013 election".
Biometric voter registration is already being used in African countries such as Nigeria, Zambia, Sierra Leone, Kenya and Ghana, amongst others.
Reports have indicated Zec is in consultation with the United Nations Development Programme (UNDP) with the possibility of getting technical and financial assistance to implement the project in time for the make-or-break 2018 elections.