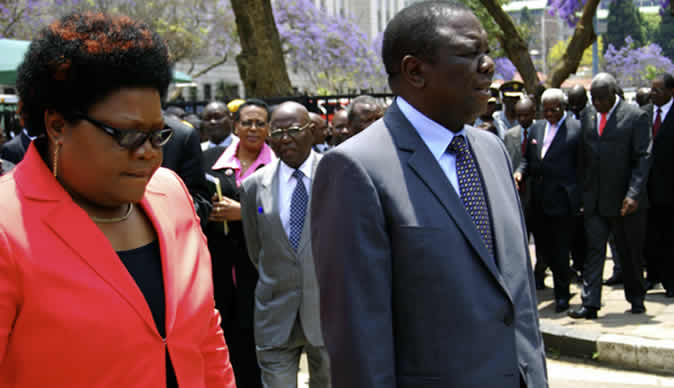 Former Vice-President Joice Mujuru and MDC-T leader Morgan Tsvangirai are ready to coalesce, as the political temperature in the country soars ahead of the 2018 elections, NewsDay has learnt.
XOLISANI NCUBE/ RICHARD CHIDZA
Mujuru's re-entry into the political scene is nigh and the People First (PF) movement on Wednesday said she was ready to work with any "democratic Zimbabwean", including Tsvangirai, to dislodge Zanu PF.
"We are ready to help each other restore our country to its glory days; we believe that every person has a task to solve the crisis we find ourselves in,"PF spokesman Rugare Gumbo said last night. "We regard every democratic Zimbabwean has a right to participate in our democratic development.""
Mujuru on Tuesday launched the PF manifesto setting the stage for a return to political life.
Analysts said the manifesto greatly undermined President Robert Mugabe's 10-Point Plan presented to Parliament as the panacea to the country's economic challenges.
The coalition between Mujuru and Tsvangirai is gaining momentum after National Convergence Platform (NCP) spokesman Vince Musewe hinted that they would prefer the two politicians' alliance.
The NCP, which seeks to bring all parties and civic society actors together on September 24, could likely become the catalyst for the alliance.
"Mujuru would bring her liberation credentials, while Tsvangirai will come on board with his numbers of supporters," Musewe said.
"Mujuru, too, has government institutional memory, which is needed, and stability, but we also need other parties to come together and sit down for a better Zimbabwe."
Musewe last week also said: "A coalition movement led by Mujuru and Tsvangirai will work to get us out of a dictatorship", an indication that this was a matter that had been considered over a long period.
Mujuru, several Cabinet ministers and senior party officials were recently expelled from Zanu PF charged with plotting Mugabe's ouster through clandestine means.
MDC-T spokesperson Obert Gutu said his party was ready to work with the Mujuru camp, as they carried "the much-needed liberation credentials that we need as a country and have now realised that in Zanu PF, there is nothing to live for".
"We would like to make it known that as a party, we are happy that some former liberation stalwarts have seen the light and are now speaking the language of democracy," Gutu said.
"As a party, we are ready and open for any dialogue with people who share with us the same beliefs and understanding so that we could help Zimbabwe come out of the current catastrophe which we have been plunged into by Zanu PF."
The former Vice-President's political roadmap included property rights, review of the land reform programme, a repeal of stringent media laws and an amendment to the indigenisation laws and a Diaspora vote, among other things. Research and Advocacy Unit official Dereck Matyszak said Mujuru had, through her manifesto, effectively laid down a good platform for a coalition, but this could be undone by "egos".
"The fact that Mujuru's manifesto is clearly a checklist of the demands of the opposition in the past 15 years makes it easier to form a coalition," Matyszak said.
"But the antipathy between Tsvangirai and other opposition formations makes it highly unlikely. It is difficult to come to a convergence given the fact that Tsvangirai, as with Mugabe in Zanu PF, has become a stumbling block to the democratic movement. The issue is he believes he has the masses behind him, but the reality on the ground and his belief are two differing things."
University of Zimbabwe lecturer and political analyst Eldred Masunungure said for the coalition to work, it would need political leaders to change tack.
"Political egos are the anti-thesis to a coalition. It depends on whether Mujuru, Tsvangirai and the other opposition leaders are willing to swallow their collective egos for the greater good of the country," Masunungure said.
"The question is on whether they see the greater picture beyond their own political ambitions. Unless there are fundamental shifts in the psychological and behavioural set-up within the leadership of the opposition, I am not optimistic.
"Singularly, it is impossible to dislodge Zanu PF and the imperative is for these parties to come together, but the probability is low."
Masunungure gave an example of the stillborn moves to unite by former Cabinet ministers Tendai Biti of the MDC-Renewal and Welshman Ncube of the MDC as an indicator of how difficult it is for Zimbabwean opposition leaders to form a coalition.
"The Biti-Ncube attempt is dead in the water and there are lessons to be learnt from that and other coalitions in Africa, where they have been successful. We could take a leaf out of the Kenyan, Nigerian and lately Tanzanian examples," he said.