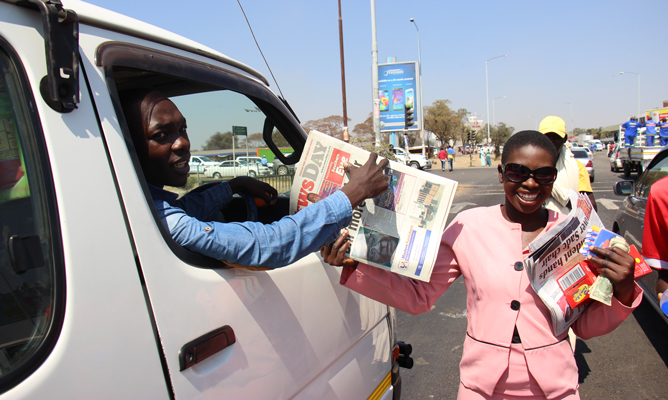 SHE weaves in and out of traffic with ease, her tiny hands clutching a stack of newspapers that flutter in the early morning breeze.
By PHYLLIS MBANJE
Charity Anna Kamukosi (28) is unperturbed by the monstrous haulage trucks that ply the ever busy Seke Road. She ducks as she hands over a newspaper to a motorist and, in one fluid movement, dashes to the next customer across the road. A speeding commuter omnibus from Chitungwiza wheezes past her, but she seems not to notice. Her carefully made up face registers no fear or hesitation.
She shouts to another vendor on the other side to attend to an impatient motorist who has been trying to summon the elder male vendor.
Smartly dressed in a neat, elegant pink dress and a matching cropped jacket, complete with all the accessories, she would perfectly fit into any business meeting anywhere in the world.
You hardly find a vendor of her kind. As motorists drive by, they look her up and down, and to those seeing her for the first time, surprise registers on their faces.
Airtime vendors are ordinarily scruffy, with the men usually dressed in dirty work suits or t-shirts and sandals while the few females who dare to play roulette with traffic are content with donning thick winter socks to keep away the morning chill.
But not Kamukosi! For close to six years, she has gracefully dressed herself and maintains her attire every day, every year.
Kamukosi has been written about and has graced pages of many newspapers but she has not grown a big head from all the fuss and attention, more so now that she is also an ambassador of a leading international cosmetics.
Keeping up with her and trying to hold an interview proved both daunting and hair-raising as the NewsDay crew kept scuttling away to safety from the maddening traffic, which got worse by the minute.
The continuous blaring of horns and near-misses is enough to cause one some indigestion, so it is finally agreed that she would come for a proper interview when she knocks off around 2pm.
Off the streets she is a different person. Shy and demure, she sits on the proffered chair with her hands neatly folded in her lap. She does not take off her trademark dark glasses throughout the interview.
Her demeanour is in sharp contrast to the aggressive power-house witnessed earlier. She laughs off the instant change and explains that when she is working, that is all that matters and nothing else.
"As a woman I get a double portion of challenges. By nature, women are scared very easily and working at a busy intersection is no walk in the park," she says with a smile.
And then there are the nasty and suggestive comments from males.
"I'm used to it. Besides, I have to stay focused," Kamukosi says.
Besides being smartly dressed, her face is flawlessly made up. The polished look is typical of cover models of glamour magazines like Elle or Cosmopolitan.
"A lady from Vault Cosmetics, which is an international company, noticed me and asked me to advertise their products," she recalls fondly.
Vault is owned by Hollywood-based Zimbabwean make-up artist, Jackie Muchanyuka-Mgido, who launched the make-up line in 2012.
Kamukosi life has dramatically changed and so has her outfits.
"They called me to their Zimbabwe offices and asked me to be a brand ambassador for their products. They supply me with the cosmetics and they even bought me clothes," she says.
But Kamukosi is not done yet, she wants to go back to school and finish where she left off.
"Vending has been the source of livelihood for me and my family but I want to achieve more. My father is the one who taught me how to sell newspapers when he retired form Zimpapers," she says.
She has never looked back from the day she stormed onto the streets.
"We are paid on commission and while some people might think its small money my children and my husband appreciate," she says.
Since 2009 she has been waking up at 4am to do her motherly chores before starting work around 7am. Rain or blazing sun she has remained resolute, determined to change her life.
"I count myself lucky and who knows when I finish school I might even become a journalist," she winks.