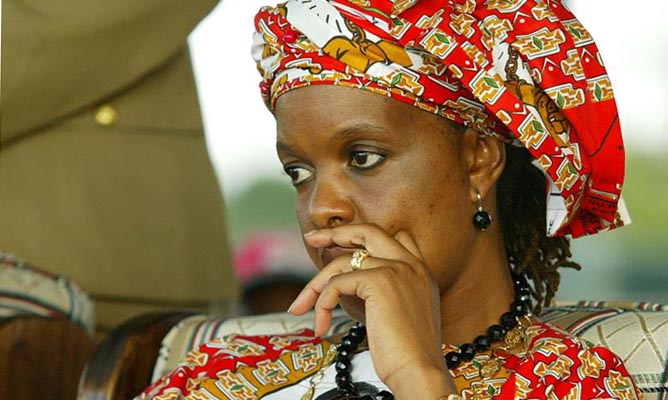 FIRST LADY Grace Mugabe's son Russell Goreraza (31) was arrested on Thursday evening for allegedly killing an unidentified man in a road traffic accident and spent the night at Rhodesville Police Station in Harare.
by XOLISANI NCUBE
He committed the offence on February 23.
Yesterday, Goreraza was convicted of the offence and slapped with a fine of $800 or in default to serve a two-month jail term.
Russell is the First Lady's son with former husband Airforce of Zimbabwe wing commander Stanley Goreraza, who was appointed defence attaché at the Zimbabwean Embassy in China.
Appearing before Harare provincial magistrate Vakai Douglas Chikwekwe, Goreraza pleaded guilty to culpable homicide charges.
Prosecutor Venancia Mutake told the court that on February 23, Goreraza, a holder of a class four driver's licence, knocked down an unidentified pedestrian along Samora Machel Avenue in Harare. The pedestrian died on the spot.
It was the State's case that Goreraza negligently failed to control his BMW vehicle as he was speeding and killed the pedestrian whose identity the State could not establish.
Mutake urged the court to give Goreraza a custodial sentence, saying: "The accused failed to protect the life of other road users as he was speeding and did not apply any effort to save an innocent life."
In his submission, Goreraza said he was "sorry for causing the death of an innocent soul and for failing to be a cautious driver".
"I would like to tell this honourable court that I am sorry for causing the death of an innocent soul. I appreciate that it is through my action that this innocent life was lost," Goreraza said.
The presiding magistrate said had Goreraza not shown contrition and pleaded not guilty, he would have cancelled his driver's licence and sent to him to prison.
"In coming up with this sentence, the court has considered that the accused is a first offender who has pleaded guilty to the charge, thereby showing contrition and not wasting the court's time. He is a divorcee who has one chid to look after," Chikwekwe said.
"However, I have not lost sight of the fact that an innocent life was lost because of his negligence. It is because of such drivers like him that our road carnage is increasing and it is appropriate that a deterrent sentence is pronounced."
Chikwekwe ruled: "I, therefore, sentence him to pay a fine of $800 or in default of payment, to serve two months in prison." Russel was not represented.