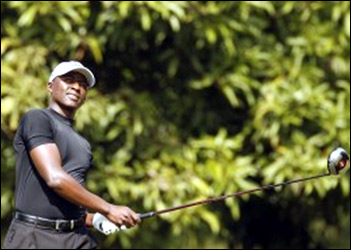 ONE of Zimbabwe's leading professional golfers Tongoona Charamba is looking for some inspiration as he returns to the scene of his last victory on foreign soil, the Royal Swazi Sun Country Club, which hosts this week's R1 million Lombard Insurance Classic in Swaziland.
BY DANIEL NHAKANISO
Charamba, together with three other local pros — Greg Bentley, Brian Gondo and Dale Howie — will battle it out with 61 other golfers in the pre-qualifying round for non-exempt players today.
With only 10 slots on offer for the tournament which tees off at the same venue tomorrow, Charamba said he hoped familiar territory would help give him a kick-start.
"Royal Swazi Sun Country Club is one golf course that just suits my game," Charamba told NewsDay Sport from Swaziland yesterday.
"I have had many runner-up finishes on the Sunshine Tour here and I also had my last win away from home here at the General Nyanda Golf Tournament last year so I'm confident, but I will see what the golfing gods have in store for me this week," he said.
The 33-year-old golfer, who has two Sunshine Tour titles under his belt, has fond memories of his previous visits to Swaziland after winning last year's General Nyanda Golf Tournament at the Royal Swazi Sun Country Club.
He has finished second on two previous occasions at the Lombard Insurance Classic in 2007 and 2010 when he came just short in sudden death playoffs. After a disappointing season in which he has made just one cut in five tournaments on the Sunshine Tour, Charamba feels he is close to rediscovering his best form.
"I have been playing nicely in recent weeks, but the numbers have not been showing. My game is still thereabouts and I'm sure just one good round will ignite the confidence," he said.
The Lombard Insurance Classic Swaziland Golf Open proper, which has been played annually since 2007, will run from tomorrow to Sunday and will be the second tournament to be played in Swaziland after the Investec Royal Swazi Open two weeks ago.
However, unlike the Investec Royal Swazi Open which was played under a modified stableford scoring system, the Lombard Insurance Classic uses regular strokeplay scoring and plays three rounds instead of four.
Recently crowned Golden Pilsener Zimbabwe Open champion Dean Burmester also features in the field while Zimbabwe's leading players on the Sunshine Tour, Ryan Cairns and Mark Williams, qualify automatically due to their exemption status.