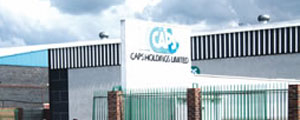 CAPS Holdings major shareholder Frederick Charles Mutanda, who is also FMC boss, has accused government of causing his business a $1,5 billion loss after allegedly seizing over 3 000 certificates of pharmaceutical product registrations for Sub-Saharan African countries and Portugal.
BY CHARLES LAITON
Mutanda, who is now said to be facing allegations of externalisation of property rights, was initially charged with $25 million fraud for allegedly stealing drug formulas, a charge which was later dropped by the State and substituted with the former.
In his application filed at the Constitutional Court (ConCourt) on Monday this week, Mutanda said he was seeking an order for reparation and compensation for loss of business, damages and international reputation.
The CAPS boss said his claim of business loss was emanating from the fact that some time in 2013, Zimbabwe Anti-Corruption Commission (Zacc) officers seized CAPS Pharmaceuticals South Africa property worth $48 million and that included all the intellectual property registrations for that country including volumes of dossier documentation.
"The intellectual property included more than 3 000 certificates of pharmaceutical product registrations for Sub-Sahara African countries including Portugal, including new anti-retroviral drugs and essential vaccines formulation," Mutanda said.
"To indicate possible value of the loss, I will use the infamous valuation used by the State on the alleged theft and fraud charge accusations of $25 million for the 50 dossiers in Zimbabwe, which gives a value of $1,5 billion on product registration alone."
He further said the basis of Zacc's visit to South Africa was to carry out extra-territorial investigations into his alleged theft and the withdrawal of R169 000 from CAPS Holdings bank accounts with ABSA and FNB in South Africa but instead seized his business documents.
"Knowing that I never withdrew any money from ABSA and FNB, the Zacc investigators never engaged these banks or enquired with the South African Police Service (SAPS) about the alleged theft, instead, somehow on March 26, 2013, they managed to collaborate with Interpol National Central Bureau of SAPS and South African Department of Health and unlawfully seized documents and property at CAPS Pharmaceuticals South Africa, sealing the office to ensure that operations ceased.
"The extra-territorial investigations in South Africa were simply turned to characterise my business conduct criminal," Mutanda said.
Mutanda added: "The same false, factually and legally impossible alleged fraud and theft accusations of $25 million caused Volkswagen (VW) AG of Germany to raise the same issue, subsequently terminating our business relationship."
The CAPS boss said he wondered why the State was alleging he de-registered drugs in Zimbabwe intending to re-register them in Europe at Liechtenstein, yet it also claimed that his intention to re-register drugs in Europe turned out to be an export of property rights/patents to South Africa. The matter is yet to be set down for hearing.