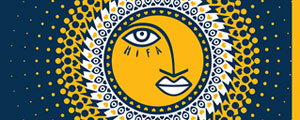 ORGANISERS of Zimbabwe's premier arts showcase, the Harare International Festival of the Arts (Hifa), have promised a superb festival despite challenges they have faced as a result of the country's economic hardships.
BY WINSTONE ANTONIO
Speaking to NewsDay on the sidelines of a press briefing at a local hotel on Tuesday, Hifa founder and artistic director Manuel Bagorro said his organisation would put up a splendid show despite the harsh economic meltdown Zimbabwe is experiencing.
"We had a challenging environment in our programming as funding in terms of corporates has been a challenge," Bagorro said.
"Even though we are operating in such a difficult environment, this year's edition of the festival will be the greatest of the previous editions.
"This year there will be more collaborations which include that of local mbira diva Hope Masike and Salif Keita an Afro-pop singer-cum-songwriter from Djoliba, Mali, and youth education projects that will be well supported."
Some of Hifa's traditional sponsors pulled out of this year's edition of the country's premier arts showcase that will run from April 28 to May 3 under the theme "Articulate" citing financial challenges.
Bagorro said despite the challenges, they would do their best to find ways for all artistes performing at the festival to exchange ideas and skills.
"Hifa combines ingredients in one pot in a unique way in every performance," Bagorro said.
On the opening show, fans will witness a glimpse of what lies ahead throughout the six days of fun with Victoria Falls-based Afro-fusion group Mokoomba at the opening show presented by the royal Norwegian embassy in association with BancABC.
The opening day joins artistes from all arts disciplines that will be characterised by music, theatre, dance and design.
Mokoomba, who have conquered Europe with their wildly energetic shows fusing ethno-jazz, traditional Tonga rhythms, Sahara blues, hip-hop and salsa — will be joined by Ignatius Mabasa, New York City vocalist and accordionist Magda and opera stars, cellist.
Erich Oskar Huetter, Tumbuka, AfriKera Dance Ensemble, National Ballet, tap dancer Jessie Sawyers, the cast of Tangram, Zvishamiso Dance Company and many other local and visiting artistes.
Hifa associate executive director Tafadzwa Simba also said: "We need to put value to the arts that's why we did not reduce our prices.
"Instead, we have increased channels of accessibility of the festival."According to the festival organisers, last year's edition saw 1 006 Zimbabwean artistes and 239 artistes from outside the country performing.