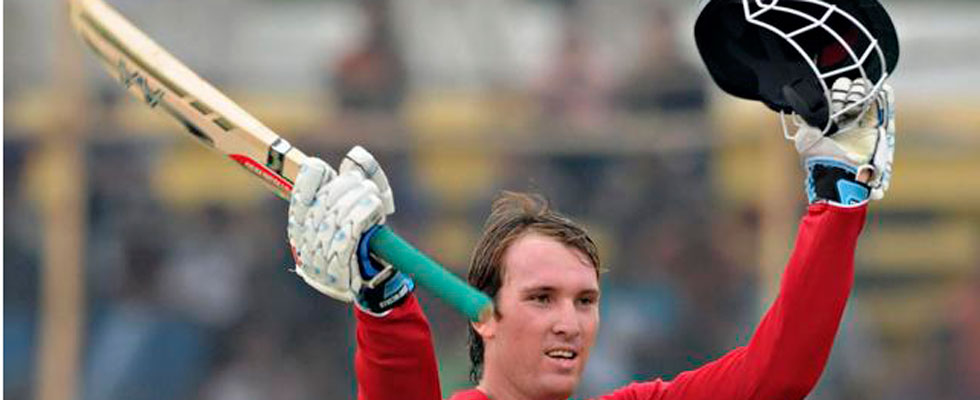 HOBART — Zimbabwe's elimination from quarter-final contention at the World Cup after defeat to Ireland on Saturday illustrated their continuing struggle to compete at the top level of cricket in recent years.
For brutal honesty in defeat, though, stand-in captain Brendan Taylor has shown himself to be in a league of his own at the tournament.
Taylor had already fired a volley at the side, talking of "mental flaws" after they blew a strong position to come up 21 runs short of beating Pakistan in their previous Pool B match.
And there was no pulling of punches on Saturday after they went into the final over against Ireland needing seven runs to win only to lose two wickets in the first three balls and fall to a five-run defeat.
Those results combined with defeats to South Africa and West Indies, along with their solitary win over United Arab Emirates, made Zimbabwe the first Test playing nation to be eliminated from contention for the knockout stages.
"We've been very disappointing, there's no doubt about that. We came here to win three games and we haven't done that," Taylor said, summing up the country's ninth World Cup campaign. "There's been positions against South Africa, against West Indies, against Pakistan, where we could have got over the line if we'd been smarter as batters.
"Hold our catches, put our bodies on the line when we field. And at times we've been very sloppy and that's come back to haunt us. We've played some excellent cricket for 80% of the time we've been here, but that 20% is why we're not going to progress."
Taylor described the fielding against Ireland as "below poor" and "shambolic", particularly in the two or three "lives" they gave to Ed Joyce, who won the man of the match award for his innings of 112.
Taylor's frustration was particularly evident over the way the Zimbabweans gave up such a strong position in the final over at Hobart's Bellerive Oval.
"It's basically six singles, we weren't making smart decisions as batters, we're going to be asking ourselves these questions for a long time to come," he said. "We were sloppy in many ways, in our bowling, our fielding and our shot selection. At the very top level, you need to be on top of these key aspects."
Even his own fine innings of 121 against the Irish, his seventh one-day international century, was little consolation to Taylor.
"I hit it nicely, but, again, getting out at the wrong time," he said. "New batter coming in in the power play, all those little things add up, it's frustrating."
Taylor said he was hoping skipper Elton Chigumbura would be back from a muscle tear to face world champions India in Zimbabwe's final match in Auckland next Saturday.
"It's another opportunity to try and get all three departments right and if we do, we've beaten India before back home so we have that belief we can do it," he said. "There's a lot to play for, a lot of pride at stake, we want to try and finish on a high note." — Reuters
Related Topics