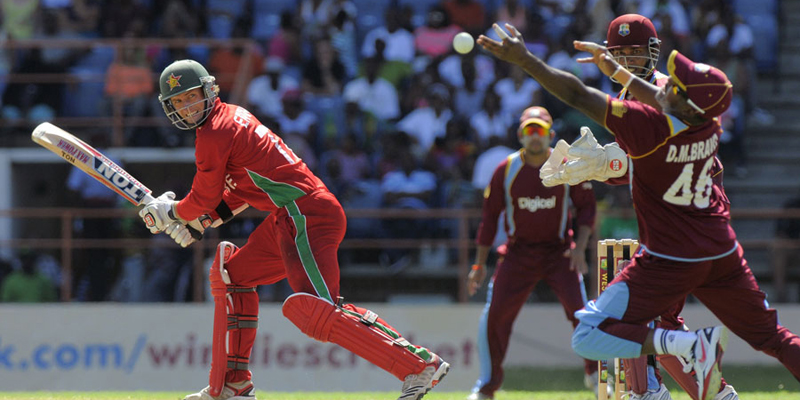 West Indies' Chris Gayle rather ruined this column. When a team concedes 370, a world record partnership and a double-century, it rather takes the gloss off whatever they may have achieved before that.
BY ALISTAIR CAMPBELL
So, well done Big Man. The highest score in an ICC Cricket World Cup and the first one-day international (ODI) 200 outside India, fantastic effort.
And there were many of your Zimbabwean friends who enjoyed it, too, after your appearance for the Matabeleland Tuskers a couple of seasons ago.
But there has been some good as well as some bad for Zimbabwe in our first three games and we're still alive with the possibility of a quarter-final place remaining a reality — not just statistically, but because we are playing well enough to produce an upset.
Our batting has been a problem area for a number of years, so it's been a pleasure and relief to see it functioning well enough to register scores of 280+ in all three matches against South Africa, the United Arab Emirates and the West Indies.
Much of the hard work done by Grant Flower in his time as batting coach with the national squad is now paying dividends, but we need to keep working hard and progressing.
Both the attitude and the science of batting is changing all the time and we must keep up, keep progressing, to stay in touch with the leading teams. The temperament shown by the top order in a tricky run chase against the UAE was particularly impressive.
Sure, it was against an associate nation and we should always beat them, but, like everyone else, I've been delighted to see how well they are all performing so far.
And they have played a lot more cricket than us in the months before the tournament began.
As for the bowling, we started encouragingly in all three games, especially against South Africa in Hamilton where we not only kept it tight but also picked up four wickets to leave them under serious pressure at 83-4.
Unfortunately, it was the precursor to the first of two world record partnerships we were to concede in three games.
Neither the UAE nor the Windies were able to get away from us in the first half of their innings either so, in short, we have plenty to be encouraged by in three quarters of all three games so far.
Unfortunately, the final quarter has been horrendous. Every team in the tournament is struggling to contain batsmen in the "death" overs, but none more than Zimbabwe.
South Africa and West Indies both added around 150 in the final 10 overs to take the game beyond us.
They were two of the three most expensive final 10 overs ever. If we'd kept them to 100 we might have produced an upset — certainly against South Africa after we reached 180-2 in the run chase.
But 15 an over . . .FIFTEEN. One over of 15 was a rarity a decade ago, but 10 in row. Wow!
But that is the reality and we have to deal with it. Analysis of opposition is important and so is the execution of skills, but so is the planning.
Although the bowlers were clearly operating to some sort of plan, I'm not sure they were the best or most realistic ones. But that's very easy to say . . . and I know all too well how difficult it is on the field — and how easy from the sidelines.
Many people have spoken about the performances of the teams which qualified for this ICC Cricket World Cup.
The ICC has spent millions of dollars in helping to develop the game, and the rewards are there for the world to see. They should be congratulated. But it makes the decision to reduce the teams from 14 to 10 at the next ICC Cricket World Cup all the more bewildering. Like many others, I hope that decision is reviewed — for the good of the game.
The match against Ireland is crucial to our chances of progressing, but we will have to beat Pakistan or India, too. It is not impossible — far from it.
But we will have to find a way of limiting the damage in the final overs. The best way, of course, is to take more early wickets.
Related Topics