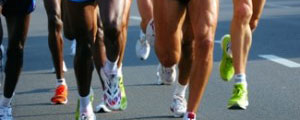 THE Sports and Recreation Commission (SRC) says it will prioritise on sending high quality athletes instead of numbers as the country prepares for the All-Africa Games to be held in Congo Brazzaville in September.
BY SUKOLUHLE MTHETHWA
SRC corporate communications officer Tirivashe Nheweyembwa said they had agreed on a number of issues in a meeting with National Sports Associations (NSA) held in the capital on Tuesday.
"We had a meeting with National Sporting Associations (NSA) yesterday (Tuesday). The Zimbabwe team All-Africa Games chef de mission Joseph Muchechetere scored the importance of sending high quality athletes instead of sending large numbers of athletes and not getting good results.
"It was said that NSA's need to complete the appointment of their technical staff in preparations for the games," he said.
Nheweyembwa said they are hoping to send athletes who will perform well against opponents from other countries.
"What is going to be done is that some of the sporting disciplines might be dropped. A decision will be arrived at on which sporting disciplines will represent the country and which will be dropped.
"There will be a technical and management committee arm which has SRC, Zimbabwe Olympic Committee and National Paralympic Committee that will vet NSA's technical plans. NSA's will submit and then defend their technical plans," he said.
He said they are happy that some sporting associations started preparations for the competition early.
"We are glad to say that there are sporting disciplines which began preparations for this year's All-Africa Games three years ago. This means that that they are in the right direction as we want teams that will excel in the competition," he said.
It was agreed that athletes that are expected to qualify for the 2016 Rio Olympics be part of the All-Africa Games teams as this would give them the chance to measure their preparedness.
The SRC spokesperson said it is the prerogative of the associations to look for funds if they are taking part in qualifiers saying the government would chip in at a later stage.
"Sporting Associations are supposed to source their own funds. There will be management committees that will also help in the sourcing of funds. Government grants will also come in since these are national games."
The All-Africa Games sports extravaganza will showcase 22 sporting disciplines.
NSAs which attended the meeting include the National Athletics Association of Zimbabwe, Cycling Zimbabwe, Zimbabwe Aquatic Union, Basketball Union of Zimbabwe, Zimbabwe Karate Union and Badminton Association of Zimbabwe.
Zimbabwe sent 170 athletes in 17 disciplines to the 10th All-Africa Games that were held in Maputo, Mozambique in 2011 finishing on position 11 out of 43 countries.
Related Topics