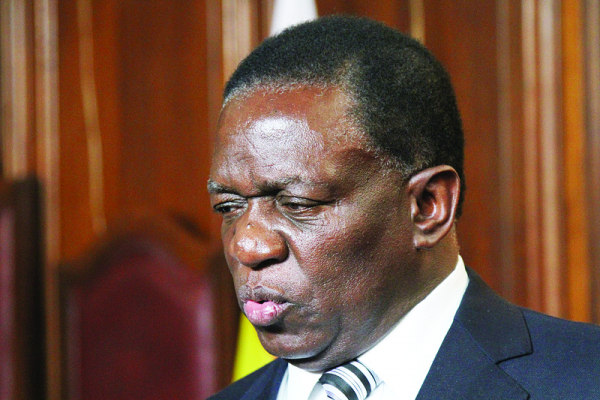 Vice-President Emmerson Mnangagwa last weekend unwittingly exposed Zanu PF's election-rigging strategies when he told party members in Midlands that they had devised a system where traditional leaders, ward chairpersons and councillors would closely monitor their subjects to ensure they voted for the ruling party's candidates in the forthcoming by-elections slated for March 27.
BY OUR STAFF
Addressing Zanu PF members at the launch of his wife Auxilia's election campaign for the Chirumanzu-Zibagwe constituency, Mnangagwa said they would monitor voting patterns, apply intimidatory tactics and trail voters so that they voted for the ruling party candidates in the Chirumanzu-Zibagwe and Mt Darwin West by-elections.
Listen to Mnangagwa here:
He warned that those who failed to vote for the ruling party would be effectively closed out of government programmes by what he termed ruzhowa [perimeter fence]. He also insinuated that those known to be against the party should not be given a chance to cast their vote.
"What has brought us together is an election which is coming . . . Auxillia will be contesting with three other candidates which candidates do not have a history, and I don't even know what these people have done in their lives," Mnangagwa said.
"I therefore ask of all the 12 wards in Chief Chirumanzu's area that you should go to the polls with the headman in front, district chairman following behind with the people and the councillor should also come, then go and vote."
He added: "We know that each polling station has its own results, we will want to know from each polling station where the people would have come from and how did they get in. What we might fail to know is how death will come, but anyone who is voting we can trace the pattern because they have one.
"Nobody comes to vote in the same manner death comes, for death you cannot build a fence to keep it out, but a person who votes we can tell if they are for us or not with us and those who are not ours we will fence them out," said Mnangagwa.
He said during the 2013 general elections he won his seat by 18 000 votes while the other two candidates failed to garner between them just 2 000 votes and he was expecting that this time around the votes would be tripled in favour of his wife.
Zanu PF after the 2013 elections engaged in a witch-hunting exercise to weed out perceived main opposition MDC-T supporters from farms in the Chirumanzu-Zibagwe constituency.
Mnangagwa confirmed that a similar purge could be applied if the electorate voted "wrongly" in the by-election.
"I don't see how that can happen that here in Chief Chirumanzu's area, here in Chief Samambwa's area we can get lost votes. We just want correct votes on the day," he said.
Mnangagwa's admission validates the MDC-T's accusations that previous elections have always unfairly favoured Zanu PF which relies on intimidating voters. The MDC-T, which has boycotted the by-elections, said the party was not surprised by Mnangagwa's comments.
"They cannot be trusted with holding a free and fair election which passes the test of credibility and we are therefore not shocked that Mnangagwa and Zanu PF said that because they are perennial vote riggers who will stop at nothing in manipulating and bastardising the electoral process just to secure a win," said MDC-T spokesperson Obert Gutu.
Gutu went further to say voters in any election should be given an unfettered right without any undue influence from anyone to vote for a candidate of their choice.
Zanu PF has been accused of using underhand tactics which included violence, constituency border tampering and manipulation of the voters' roll just to win polls.
Gutu said his party boycotted the polls because it was clear that the process was already predetermined.
The only opposition parties that have confirmed participation in the two by-elections are little-known National Constitutional Assembly and Transform Zimbabwe.