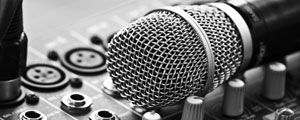 HARARE-BASED award-winning comedian Carl Joshua Ncube has slammed little-known Bulawayo DJ Vulcan for allegedly stealing his poster design to market the DJ's Phuza Friday shows at Sunset Café in Northend.
OWN CORRESPONDENT
The original poster was for Ncube's Feel Good Zimbabwe tour of 28 cities and towns that included 15 in Zimbabwe, three South African, four in the United Kingdom, four Australian and two Canadian in August 2014.
A few words were changed on DJ Vulcan's poster, but Ncube's picture and the tour title were retained.
Ncube took to Facebook last Friday to vent his anger at the DJ, whose real name is Ngqabutho Mpofu.
"Dear Dr or DJ Vulcan whatever! Do you know how hard my team works on maintaining a very consistent brand presence? Are you aware of how many people I work with to come up with visuals I use for my shows?
Do you know how many times I go broke investing in my career only for you to think it's okay to deface my work so you can promote some show?
This is both disrespectful to all the hard work Zimbabwean artistes put into their craft and the last thing I would expect from someone like you," Ncube wrote on his timeline.
Ncube's friends also weighed in and condemned Mpofu for his blatant plagiarism.
Batsirai Musuka wrote: "This is not acceptable. However, taking advantage of weak copyright infringement laws and high lawyer fees . . . does not mean you will get away with murder. Ultimately, his brand will be judged by how original it is . . . very lacklustre. I for one have erased him from my memory." Ncube expressed disgust at Mpofu's conduct in an interview with Southern Eye Lifestyle.
"What DJ Vulcan did is very rude, dishonourable and a bad design anyway. I put in a lot of hard work with my team in designing these posters and he goes on to ruin my work. That's highly disrespectful,"said Ncube.
Mpofu told Southern Eye Lifestyle that the posters were designed by the club's manager and not him.
"I did not design the posters. The manager Tony Phiri did, although my name is on them. I received a phone call from Carl's manager shouting at me for something I did not do. I tried to explain this to them," Mpofu said.
According to Zimbabwe Music Rights Association documentation manager Climate Munikwa, this was a massive copyright infringement.
"When you create some work and put it into material form, the work is automatically protected. In this case, this is a massive copyright infringement, plagiarism and outright theft," Munikwa said.