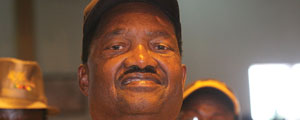 THE Zanu PF politburo yesterday banned its members from chanting unsanctioned and provocative slogans such as "Down with Gamatox" and "Down with weevils".
Everson Mushava Chief Reporter
Party leader President Robert Mugabe was also tasked to appoint a commission of inquiry to probe factionalism that has ripped the former liberation movement through the middle.
Vice-President Joice Mujuru and Justice minister Emmerson Mnagangwa reportedly lead opposing factions fighting to succeed Mugabe, who turns 91 next February.
The politburo also upheld the vote of no confidence passed on Zanu PF Mashonaland West provincial chairman Temba Mliswa recently.
Party spokesperson Rugare Gumbo confirmed the development, but said the no confidence vote against Mliswa had been upheld although it was discovered that five of the 26-member provincial executive later withdrew their signatures.
"The party has banned with immediate effect chanting of unsanctioned slogans. There will no longer be 'Down with Gamatox' or 'Down with weevils'," Gumbo said yesterday after the politburo meeting that came after a mini rally that was addressed by Mugabe where rival factions chanted the derogatory slogans against each other.
Gumbo said outgoing Women's League boss Oppah Muchinguri presented a report on First Lady Grace Mugabe's rallies which generated heated debate.
He said the report was discussed in the context of factionalism. "It was agreed that there were two factions, the one led by the VP (Mujuru) and the other by Mnangagwa," Gumbo said, refusing to disclose information on allegations raised against each faction.
He said Mugabe would decide on the composition of the commission and when it would start work. This is, however, the second time the party has agreed to set up a commission to probe divisions.
Gumbo also said Zanu PF members who wished to contest for positions at the party's December elective congress would have to wait longer as constitutional amendments that the party was working on had not yet been concluded.
Last week, NewsDay exposed that the party's legal committee headed by Mnangagwa was working on the changes to give Mugabe extra power to appoint more people, even his deputies, in a move meant to shut out Mujuru.
Mnangagwa's faction, which was accompanying Grace in her nationwide tours after her nomination to lead the Women's League, popularised the "Down with Gamatox" slogan, in apparent reference to the rival Mujuru camp.
Zanu PF secretary for administration Didymus Mutasa was the first to say the party would apply Gamatox to weevils after Mugabe claimed the party was infested with weevils, apparently referring to Information minister Jonathan Moyo and other members of the Mnangagwa faction.
Earlier, Zanu PF factional fights got nastier when a group of party supporters, believed to be sympathetic to a camp led by Justice minister Emmerson Mnangagwa, taunted their rivals before bursting into denigrating songs and describing VicePresident Joice Mujuru as a "witch" .
The drama, which took the better part of the day, played out at the party headquarters in Harare where Zanu PF politburo members were meeting to discuss contentious issues dogging the party.
Mujuru and Mnangagwa are believed to be leading factions angling to succeed President Robert Mugabe, who turns 91 in four months' time.
By 9am, the open space at the Zanu PF headquarters had almost filled to the brim with more supporters pouring in from outside Harare on hired Zupco and Pioneer buses.
The supporters, who included war veterans, youths and women, sang and danced while holding posters with messages that denigrated VP Mujuru and her perceived allies, among them war veterans' leader Jabulani Sibanda and Mashonaland East provincial chairman Ray Kaukonde.
Lyrics in one of the songs went like: "Zimuroyi, zimbuya repaDotito, zimuroyi," in apparent reference to Mujuru who comes from Dotito, Mt Darwin, her constituency.
Some of the posters read: "Pamberi nekufumura mbavha", "Ngenani muhofisi dhokotela Grace", "Chimbonwawo Mazowe Orange Crush", "Mavambo mumba mako, MDC mumba mako zvakare", "Empty vessels make a lot of noise", "Big up Dr Grace","Dr Grace is 100% right", "Mazowe Crush woye", "Kusina Amai hakuendwe."