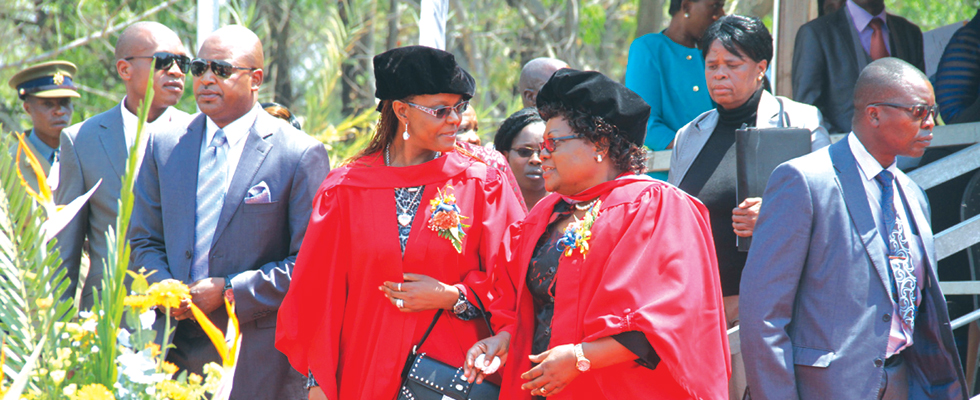 FIRST Lady Grace Mugabe yesterday made sensational claims that some Zanu PF bigwigs, who were now plotting to topple her husband President Robert Mugabe, had made several futile attempts to stop last year's general elections fearing possible defeat by the MDC-T.
BLESSED MHLANGA STAFF REPORTER
Addressing hundreds of supporters at the Gweru Zanu PF Convention Centre, Grace said she was shocked that less than a year after her husband President Robert Mugabe's emphatic victory MDC-T leader Morgan Tsvangirai, the same Zanu PF officials were now burning the midnight candle plotting his downfall.
She threatened to name and shame Zanu PF bigwigs allegedly working hand in glove with the MDC-T to unseat Mugabe.
"You see people coming to Baba (President Mugabe) saying to him that they want to go and hold victory celebrations over the emphatic electoral victory . . . these are the same people who did not want these elections in the first place. Even if you ask [Minister of Justice Emmerson] Mnangagwa, people did not want these elections," she said.
The First Lady, who is also set to lead the party's Women's League, said while the First Family had chosen to remain silent over the subplots, it was aware of all top Zanu PF members who were busy whispering succession politics behind closed doors while pretending to publicly support Mugabe.
"We might be quiet, but we know of the people who are busy bribing people so that they get votes. I want to say stop it, stop it before congress because we have the information. My husband and I might be sitting quietly at our home, but we know you and one of these days I will confront you.
"In the afternoon, you come to the President and tell him that you love him and support him, but before dawn you will be calling people to meet so that you plot for President Mugabe's downfall and you think it is that easy treating an educated man like Mugabe like a child. Are you sure?" she said to cheers.
Grace, who spent over an hour ranting about factionalism and backbiting in the party, accused some senior Zanu PF members of conniving with the MDC-T to topple her husband.
"Some of them can't even chant slogans that denounce MDC-T because they have pacts with the opposition. I have quietly observed that the MDC devil is now in our party and is being spread around by people who use money to obtain power," she said. She also attacked the media for reporting falsehoods supplied by her Zanu PF rivals.
Speaking at the same event, outgoing Women's League boss Oppah Muchinguri told party members that Grace's mandate was to end Zanu PF factional fights.
"After looking at the factional fights in the party, the gossip and bribery for top positions . . . top leadership trying to run to get the President's post hardly a year after he won the elections, we set as a leadership and saw that Amai Mugabe is the only person who can stop this," she said.
Meanwhile, some of the party supporters at the rally said they had been bussed from Kwekwe, Gokwe and Shurugwi in school buses commandeered by the party leadership.
"We were forced to provide the buses even at the expense of our own school activities, we even provided our own fuel and the party did not even do anything," said a School Development Association member from Redcliff Primary School.