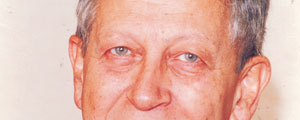 RENOWNED economist and Reserve Bank of Zimbabwe (RBZ) former advisor Eric Bloch has died.
SILENCE CHARUMBIRA STAFF REPORTER
Bloch died at his Bulawayo home on Saturday night after a long battle with cancer.
He was 75.
His son, Mark, who had flown in two days earlier from his Scotland base, told NewsDay that his father had not been well since last December.
"He has not been well since last December and the past weeks, it got worse and he eventually died yesterday [Saturday] past 7pm," he said.
"He began showing signs of tiring and after the death of my mother, he was lonely."
Mark is one of Bloch's four children, with the eldest Raphi (50) based in Israel, Barry (46) in Australia and last born Ruth (43) in London.
"My father began working at the age of 16 and trained as an accountant, but later worked as a consultant in finance and economics," Mark said.
"Everyone I have spoken to in the last two days says he has helped many people and influenced many young people. Hopefully, he leaves a legacy for the people and hopefully the government builds an economic legacy."
He said they were hoping his burial would be on Wednesday morning although they were yet to come up with solid plans, pending the arrival of Barry, and Ruth.
"I just wish I had been here earlier. My father was the eternal optimist and he gave his all to try and get Zimbabwe back on its feet. He was the most generous man I have ever known — it may not have been money, but he was always willing to help — and I know there were always very important visitors at home to talk to my father.
"Apparently, he was once an advisor at the RBZ and he was always committed to this country and its people."
Fellow economist John Robertson told NewsDay that he was saddened by the passing on of Bloch whom he had known for many years.
He said Bloch, who was a chartered accountant by profession, had an enormous integrity, was very knowledgeable and had an incredible memory.
"He used his experience to the advantage of many people and he leaves a legacy in the business sector in which he played an enormous role," Robertson said.
"He was a family man, a professional and he is going to be seriously missed.
"I knew he had been handicapped health wise for three or four years but he has continued to work hard, writing his weekly column and other business.
"He did decent work. He was a chartered accountant and he did a lot more that I do as clients approached him for accounts, legal and economics advice while I only deal with economics."
Consumer Council of Zimbabwe president Charles Msipa said Bloch was deeply committed to the economics of Zimbabwe.
"He was generous with his time and knowledge and a great supporter of the CZI. We are all the poorer with Dr Bloch's death."
Bloch lost Baileh, his wife of 50 years, in July 2011 to a heart attack.
In 2013, the Bulawayo-based economist was hospitalised and had to go under the knife for an undisclosed ailment.
In the past months, his health had deteriorated as he struggled to fulfil his commitment to his column in our sister paper, the Zimbabwe Independent, where his articles had a huge readership.