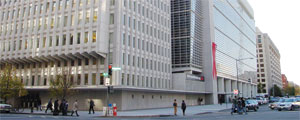 THE World Bank has approved the establishment of the Zimbabwe Reconstruction Fund (Zimref) to support private sector development, capacity building and policy dialogue among others.
NDAMU SANDU
Zimref will be implemented over a period of five years (2014-2019) and is a successor to the Analytical-Multi Donor Trust Fund (A-MDTF) and is aligned to the economic blueprint, Zimbabwe Agenda for Sustainable Socio-Economic Transformation (ZimAsset).
It will also be implemented under the Zimbabwe Interim Strategy Note III, an engagement framework between the country and the World Bank.
Finance and Economic Development minister Patrick Chinamasa told Parliament last week that the fund had received pledges from co-operating partners estimated at $44 million and the envelope was expected to grow over time as results are demonstrated.
Britain's Department for International Development pledged £10 million (about $16,2 million), the European Union,€5-10 million (about $6,5 million to $13 million) and Sweden and Norway ($5 million apiece). Denmark and Germany pledged $1 million apiece.
"Zimref will support private sector development, capacity building, resilience and livelihoods, and policy dialogue," Chinamasa said.
The A-MDTF has been the World Bank's main vehicle for financing support to Zimbabwe over the last five years.
Supported by 12 donors, the A-MDTF had funding of over $19 million for 2008-2012, and was extended through 2013. It has also improved donor coordination.
The bank said the objective of the A-MDTF was to contribute to analytical work on Development challenges facing Zimbabwe and to design instruments to enable government and donors to respond quickly as conditions for re-engagement change.
In the interim strategy note for Zimbabwe, the World Bank said the A-MDTF had  "significant impact in informing government policy; building up technical knowledge (through studies and workshops) related to Zimbabwe's development issues; supporting government capacity improvement; establishing the basis for transparency and accountability; and informing the public debate on international best practices in specific areas.
"Although initially it had a broad remit, after the mid-term review it was decided that the A-MDTF would focus on economic management and governance; agrarian issues; and infrastructure, mainly water, and that it would be better aligned with the AfDB-managed Zim-Fund," the World Bank said last year.
The ISN for Zimbabwe was done by the International Development Association, International Finance Corporation and Multilateral Investment Guarantee Agency— all arms of the World Bank Group. It began last year and end in 2015.
This was the third roadmap for Zimbabwe after one in 2005 and the other which ran from FY 2008-2009.
It is aligned to the World Bank's Africa region strategy, premised on competitiveness, employment, vulnerability and resilience with a foundation of governance and public sector capacity.
Its first priority is fostering private sector-led growth, addressing competitiveness and employment by working to improve Zimbabwe's "business environment and the agriculture sector, easing infrastructure constraints, and improving overall growth conditions".
While capacity in the private sector has suffered from a decade of poor investment, the ISN contends that it could, with a better environment be a driver of growth.
It said Zimbabwe has a competitive base for private sector development, largely "on account of the substantial investments made in human capital and infrastructure" after Independence.
The ISN aims to address governance and public sector capacity by strengthening core public systems and focussing on the demand side of good governance.