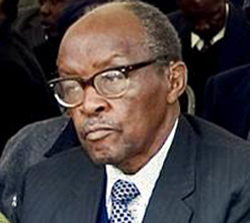 VETERAN nationalist, Zanu PF politburo member and former Cabinet minister Nathan Shamuyarira, who died at Westend Clinic in Harare on Wednesday after a long illness, has been declared a national hero.
Everson Mushava
According to national broadcaster ZBC, Shamuyarira, who was 85, will be buried today at the National Heroes' Acre. Zanu PF spokesperson Rugare Gumbo was not picking calls yesterday, while party secretary for administration Didymus Mutasa's mobile phone was not reachable.
A veteran journalist, Shamuyarira had a strong liberation history. He previously worked as a primary school teacher in Zimbabwe and lecturer at the University of Dar-es-salaam, Tanzania.
In 1956, he became the first black African editor of the white-owned Daily News. He was also the editor-in-chief of African Newspapers Limited from 1959 to 1962.
He joined active politics 8in the 1960s where he was initially a member of Zapu. He joined Zanu before joining a breakaway party, Frolizi, that was led by the late James Chikerema. He rejoined Zanu where he played a pivotal role in the information department.
After independence, Shamuyarira held several government positions, including being Information and Tourism, and Foreign Affairs minister.
He voluntarily retired from government in 2000.