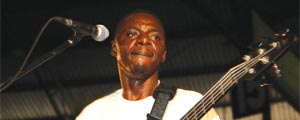 SUNGURA musician maestro Alick Macheso has officially divorced his estranged wife Tafadzwa Fortunate Mapako and filed an application for discharge of her $280 maintenance at the Harare Civil Court.
CHARLES LAITON
The pair's divorce comes barely a month after a Harare magistrate dismissed Macheso's refusal to maintain Mapako, arguing that he was legally married to her given that he had not customarily terminated the relationship.
Macheso said the whole process of handing over of the token of rejection to Mapako was video-filmed and the footage kept as an exhibit in case Mapako would dispute receiving such a token.
Macheso, however, said Mapako refused to personally accept the rejection token and also refused to open the gate for his intermediary Jeaft Marunguzha, but sent one of her relatives, Blessing Masiiwa, to communicate with him.
But the latter also reportedly refused to accept the token which was tossed about between the parties before Marunguzha left the residence.
"I am advised, which advice I accept, that where a party in customary law union rejects the rejection token as in this case, the other party could even throw it on the ground as that will be sufficient requirement and proof of the return of service," Macheso said.
Last month, Macheso was ordered to pay a total of $1 030 for the upkeep of his two minor children and Mapako. Said Macheso in his affidavit filed under case number M1963/14: "I have divorced with the respondent [Mapako] and I have done all the necessary customary law rituals which the law recognises, in particular that I [gave] the respondent a rejection token (gupuro) on April 2 2014, through her parents." Macheso said the process was done through their go-between also known as sadombo/munyayi (Marunguzha), whose affidavit was attached. "However, out of abundance of caution after realising that the respondent was pretending as if she had not seen the rejection token, I assigned the same sadombo to go and personally hand over another rejection token on May 23 2014 at number 1910 Bush Road, Mainway Meadows, Waterfalls in Harare," Macheso said. "After realising that the respondent was playing games and avoiding receiving the rejection token, the Macheso family decided that the sadombo was to go again the following day in the morning and hand over the rejection token, which he did." The sungura maestro said there was no longer any legal basis to keep the maintenance order since he had availed proof that he was once married to Mapako, which marriage had since collapsed. Attached to Macheso's application were affidavits by witnesses Marunguzha, Bernard Howera, Talent Macheso and a copy of a dollar note.