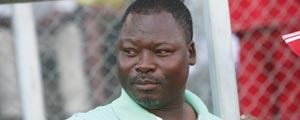 MOSES Chunga's seemingly fairytale story with Chiredzi FC is fast coming to an end, if recent results are anything to go by.
HENRY MHARA
His attempt to write a rags-to-riches football story is crumbling. Fans in the Lowveld keep gazing at the horizon, hoping that the project they backed will one day flourish.
After a pre-season dominated by boardroom squabbles after Tongaat Hullet pulled the plug, Chiredzi FC started the season well with a commendable draw against FC Platinum. Then, there was so much hope.
But four consecutive defeats followed, and all the expectations evaporated. Chunga then thought he had stuck the right chord with a 2-0 win over Bantu Rovers, a result which he followed up with a draw against Chapungu.
But then, they were brought down to mother earth by Shabanie Mine on Thursday, losing the match 3-0 despite playing the bulk of the match with an extra man.In his post-match analysis of that latest battering, Chunga described the performance of his players as "amateurish".
Tomorrow, Chunga has a chance of restoring confidence to the fans when he hosts Dynamos at Chishamiso Stadium, in a match whose result could have massive significance to the team's fans and their survival in the top flight. Chunga will be hoping his team will not repeat the Shabanie performance against the league champions who have a perfect record in Chiredzi.
Dynamos are going into the match in good mood after their victory over FC Platinum on Wednesday.
The Harare giants scored a late penalty to record their first win in four attempts which was threatening to turn into a crisis.
The Kalisto Pasuwa-coached side will once again be without some of their first team players for the match due to injuries.
Masimba Mambare, Tawanda Muparati, Anesu Gondo, Sydney Linyama and Devon Chafa are all crocked and missed the bus to Chiredzi. But basing on the team's performance against FC Platinum, they will not likely miss the injured crew, except maybe Gondo, who remains the only striker of the seven at Dynamos, to have found the back of the net this season.
"Compared to the game we played against Caps United, I think there was a slight improvement (against FC Platinum). We just need to work more on scoring goals. Sometimes these things take time, but I am sure eventually we will come right," said Dynamos manager Richard Chihoro.