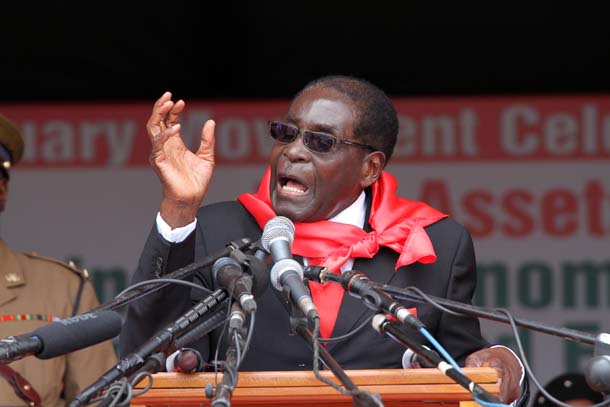 OVER the last 34 years, a period in which Zanu PF has ruled Zimbabwe almost without interruption, a myth has been built around the figure of Robert Mugabe.
Paidamoyo Muzulu
His story is reads like a Greek epic.
He has become a legend, a man who went on an epical journey to fight for his country, came back victorious and led his country to a prosperous future.
Mugabe's odyssey has been characterised by a series of achievements and events which the State-controlled media has narrated in an elevated style. It reads like Homer's Iliad.
The narrative has papered over some of his greatest weaknesses so much so that in the intervening years, it has become difficult to identify the man from the myth.
Media and contemporary history has made him a giant that lords over all and little has been done to show his Achilles heel.
In Africa, he is viewed as a giant, the ultimate nationalist and unwavering pan-Africanist.
He has been lauded for standing up to the West which formerly held the continent in its colonial grip.
Indeed Mugabe has, in this regard, played to the gallery at one time telling former British Prime Minister Tony Blair to "keep your England, let keep my Zimbabwe".
For most Africans living in semi-decolonised States on the continent, Mugabe became the epitome of the fight against neo-colonialism.
Whatever forum he graces on the continent he, is received with a standing ovation. He has been compared to Nelson Mandela with a lot of hot air expended on how Mugabe is the greater African statesman.
But his African stature has in the past few weeks been put to scrutiny. This was after the faux pas over the recent European Union-Africa Summit which he tactlessly refused to attend simply because his wife Grace, who is on European Union sanctions, was denied a visa to travel to Brussels, Belgium, where the conference was being held.
African scholars were able to see in this apparently insignificant incident how Mugabe's idiosyncratic behaviour could have scuttled a huge African initiative to strike a more balanced trade deal with the European bloc.
Discerning Africans can now see how Mugabe's egoism destroyed a country touted at independence in 1980 as the "jewel of Africa", leaving its people at unprecedented levels of poverty.
As Zimbabweans reflect on 34 years of his rule, perhaps it is time to deconstruct the Mugabe legend.
Mugabe has lorded over the country in good and bad times – more of the bad it can be noted. He successfully created a coalition government at independence that set about reconstructing the war-damaged country and set the nation on a path to socio-economic development.
His government embarked on building schools and clinics, bridges and highways and, more importantly, the first phase of land resettlement. Some 3,6 million hectares of land were distributed countrywide mainly to decongest crowded communal lands.
Mugabe's star was rising. He became the de facto regional leader, a darling of the West and even hosted the Commonwealth Heads of State and Government Meeting (Chogm) in 1991 where the world-famous Harare Declaration was penned, setting the Commonwealth of Nations on a new course.
The declaration reaffirmed the principles that guided this huge international bloc of former British colonies.
The principles were:
We believe that international peace and order, global economic development and the rule of international law are essential to the security and prosperity of mankind;
We believe in the liberty of the individual under the law, in equal rights for all citizens regardless of gender, race, colour, creed or political belief, and in the individual's inalienable right to participate by means of free and democratic political processes in framing the society in which he or she lives;
We recognise racial prejudice and intolerance as a dangerous sickness and a threat to healthy development, and racial discrimination as an unmitigated evil;
We oppose all forms of racial oppression, and we are committed to the principles of human dignity and equality;
lWe recognise the importance and urgency of economic and social development to satisfy the basic needs and aspirations of the vast majority of the peoples of the world, and seek the progressive removal of the wide disparities in living standards amongst our members.
Mugabe stood on the pedestal of international statesmanship, but that was his peak. Soon after the heads of state and government of the Commonwealth nations left Harare, he began to unravel the Harare Declaration and since then his stock began declining both locally and internationally.
But Mugabe's darker nature was apparent from the outset. But in the independence euphoria many Zimbabweans failed to notice Mugabe sliding into a dictator soon after assuming power.
He started centralising authority and systematically decimating national institutions like the police, the army, intelligence services and parastatals.
As early as 1982, Zimbabwe started training a militia – Fifth Brigade – that was not part of the national army and was only accountable to Mugabe.
The North Korean-trained militia was deployed to effectively deal with military insurgency. It was deployed in Midlands and Matabeleland provinces with devastating effects in an operation codenamed Gukurahundi.
The operation was to effectively deal with acts of insurgency by a section of former guerillas some with links to Zipra forces. Thousands of civilians died in the five-year war that Mugabe described as a "moment of madness".
However, many analysts believe the Gukurahundi was meant to decimate Joshua Nkomo's Zapu, the then main opposition party, in preparation for the establishment of a legislated one-party state.
The international community stood idly and continued to fund the new State despite the rising scourge of political intolerance and persecution of political opponents.
Unfortunately, this sad episode taught Mugabe that the world does not mind new African leaders oppressing and persecuting their political opponents.
Mugabe since then has used the same tactic to stifle opposition. Edgar Tekere, Ndabaningi Sithole and, most recently, Morgan Tsvangirai have suffered the same fate as Nkomo. They were arrested, their activities banned by police and their supporters persecuted relentlessly by Zanu PF functionaries.
Along the way, the world economy was quickly changing with the East's socialist economies fast crumbling leaving the West, through the Bretton Woods institutions, to pick up the pieces.
Zimbabwe was not spared from the ravages of the world economic spasms, especially considering its sustained social spending that was not backed by economic growth and production. Mugabe and his government were forced to adopt the Economic Structural Adjustment Programme (Esap) despite massive protestation from labour unions and social movements.
Zimbabwe adopted the Washington prescription despite the fact that structural adjustment programmes had not worked anywhere else in the world.
As the economy continued to contract, Mugabe's Cabinet started to engage in systematic corrupt activities whose effects still haunt this nation today.
The first scandal was the Willowvale Motor Industry scam, infamously dubbed Willowgate Scandal, where ministers could get vehicles at factory prices and then resell them on the market at inflated prices in the process making thousands of dollars in profit without any value addition.
The Sandura Commission set up to investigate the scandal and the subsequent prosecutions against those implicated gave two important lessons to this country. Mugabe was too weak to deal decisively with corruption.
Corruption pays handsomely if one is connected to the system. Frederick Shava became the prime example of this. Mugabe pardoned him as soon as he was convicted and sentenced to a custodial term. Shava is the current Zimbabwe ambassador to China.
Since then other scandals have rocked the country with little or no action being taken against those implicated, particularly if they are Zanu PF bigwigs.
Those that come quickly to mind are the War Victims Compensation Fund (implicated several Cabinet ministers and Mugabe's brother-in-law, Reward Marufu), the Senior Civil Servants Housing Scheme (which also implicated Mugabe's wife, Grace), Grain Marketing Board scandal that sucked in Kumbirai Kangai and more recently the chaotic land reform where the majority of senior bureaucrats and ministers became multiple-farm owners.
High Court judge Justice Nicholas Mathonsi in a recent land dispute judgment came out forcefully that the new landowners cannot afford to turn their farms into weekend resorts when the country needs production.
Mathonsi said: "One cannot be allowed to hold on to large tracts of land they are not using simply to babysit an inflated ego. If a beneficiary is not using the land, that is breach of the conditions upon which the land is offered."
The generally peaceful but disputed July 2013 poll seemed to have given Mugabe the final opportunity to amend and solidify his legacy as not only Zimbabwe's but Africa's greatest statesman.
However, the EU-Africa Summit boycott has dashed that hope. Both Sadc and African Union rewarded Mugabe in his twilight the opportunity to lead the regional and continental blocs.
He will chair the two blocs at their next annual general summits.
Mugabe, the giant of the liberation struggle and the African icon, allowed a selfish reason to destroy his legacy when he failed to attend the EU-Africa Summit on April 2-3.
His boycott despite the regional and continental obligations on him to attend was caused by Brussels' refusal to grant his wife Grace a visa to the summit.
Zimbabwe, turning 34 today, was about to reach the pinnacle of her power in international relations when the first time since independence in 1980 Zimbabwe was going to this global stage wearing the two hats — regional and continental leader, but this was dashed because of a failed diplomatic stratagem.
Opposition parties, industry and labour while agreeing that independence should be celebrated and those who fought for it recognised, concur the country needs to introspect after more than a generation without renewal.
Main opposition MDC-T spokesperson Douglas Mwonzora summed it up: "The ideals of the war of liberation have now been abandoned by those running the affairs of the State in favour of pursuit of self-aggrandisement. Economic opportunities are now the preserve of a small elite linked to Zanu PF."
For now, the time may be nigh to start deconstructing the Mugabe myth.