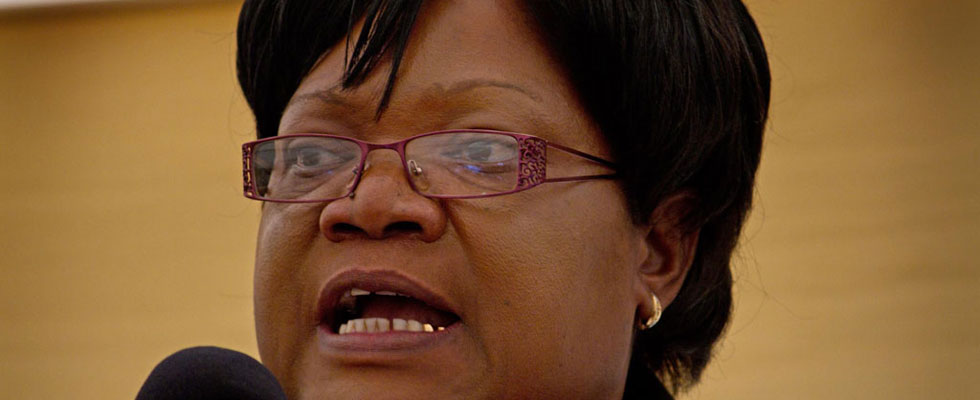 ACTING President Joice Mujuru yesterday torched a storm after she claimed that the ongoing graft exposé in parastatals was politically motivated, exposing serious infighting within Zanu PF as top officials angled to succeed President Robert Mugabe at the party's December elective congress.
MOSES MATENGA
As a result of the discord within the ruling Zanu PF party, its politburo will convene in Harare soon to deliberate on the matter.
Zanu PF is divided on factional lines with one camp aligned to Mujuru and another believed to be aligned to Justice Minister Emmerson Mnangagwa engaged in a fierce battle to succeed Mugabe who turns 90 next week.
Mujuru told the Zanu PF Mashonaland West Provincial Women Conference in Chinhoyi over the weekend that there could be an inside hand meant to destroy the party from within.
"Beware that this issue of parastatals is another way to destroy this country," she was quoted as saying.
"They know what is holding this country and what is done by parastatals. They will go to talk to some of our people and do what is happening. They say from ZBC, we go to Zesa, then Zinwa. Don't then say these people are not Zanu PF, no, they say if you can't beat them join them and fight from within, so beware."
Political parties and analysts yesterday, however, reacted angrily to Mujuru's utterances and attempts to muzzle the media over corruption issues.
MDC-T spokesperson Douglas Mwonzora said the statements attributed to Mujuru were an insult to the people who had suffered from Zanu PF's corruption for a long time and also exhibited intense fighting within the ruling party.
"It is a fact that these economic saboteurs who have been bleeding the country dry by awarding themselves obscene salaries and benefits are all well-known members of Zanu PF," Mwonzora said.
"We suspect that most of them are from the Mujuru faction of Zanu PF. In the past, the same corrupt officials have attended Zanu PF fundraising functions making generous donations to the party.
"Therefore, indirectly she has been a recipient of this corrupt money, hence her attempt to gag the Press."
Harare Residents' Trust (HRT) director Precious Shumba said Mujuru had lost the plot on corruption and scandalous salaries and allowances.
"Instead of uprooting the evil that threatens to destroy our Zimbabwe, Mujuru is seeing shadows and ghosts everywhere. Look inside, the problem is there," Shumba said.
"I always thought she was reasonable, but now I realise that she is also lost, despite sitting in a position of high authority, influence and power.
"The VP must not get excited because soon she will be exposed for being heavily involved in the corruption that has swept across our public service institutions.
"Or maybe some of her people have been fingered and risk being sent to jail? We have a war on our hands comrades."
MDC99 leader Job Sikhala said: "She doesn't realise that the population is angry with those extraordinary salaries that these people are getting."
Political analyst Alexander Rusero said Mujuru's remarks reflected factional wars in Zanu PF where only ministers aligned to her were being targeted to weaken her grip on the party's highest position.
"There is a manifestation of factionalism and they see it as one faction fighting another faction," Rusero claimed.
"If you look at the people exposed so far, it's only one faction that is covered and obviously it's a manifestation of factional wars within Zanu PF.
"She is trying to wear a brave face on the matter, but what is clear is people used Zanu PF as a passport to loot.
"It's a public admission at a public forum that factionalism is there in Zanu PF and people will have to gear up for more fights."
Zanu PF spokesperson Rugare Gumbo said he agreed with Mujuru that there was a "factional hand" in the manner the exposés were being done.
"The party has not taken a position on what we are hearing on ministries, but we are yet to sit down. We can't say we are for or against such exposé , but no one will accept these scandals and what is happening," Gumbo said.
"We have to be honest and transparent, but the key is how to handle an issue like this.
"A matter like this will have to be managed and the politburo will have to meet and get a report."
Asked on his take on Mujuru's statement hinting that there was a hand in the factional fights in Zanu PF, Gumbo said: "It's possible, I can't deny that. She is absolutely right and there are people like that.
"That's not the issue, but the bottom line is what the facts are and how to handle the issue. You can't solve this in a piecemeal fashion, we need a systematic strategy to handle this."