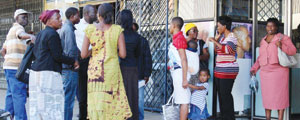 Ordinary Zimbabweans yesterday described this year's Christmas as the "worst ever" and said the future looked bleak due to a myriad of economic challenges affecting the country.
Feluna Nleya
People who spoke to NewsDay in a snap survey in Harare said in the new year the situation was likely to worsen if the country does not receive adequate rainfall.
This year's holidays were marred by cash shortages, company closures, power cuts and perennial water shortages.
A taxi driver Alfred Chikore said there was no reason to celebrate Christmas as he did not have the money to spoil his family. "This year all I can say is that there was no Christmas," said Chikore. "It was different from the previous Christmases. We used to afford to buy children clothes and spoil them, but that was not the case this year."
He said he could not travel so he spent the day at home.
Shepherd Msokota, a sales manager with a local shop said: "There was no Christmas for us at all because there was no cash. I foresee that next year will be tougher because we see that there will be no cash. We really do not know what they will do. We ask the government to do something because things are really tough now." A self-employed Itai Dick concurred saying this year's  Christmas was different from that of prior years. "There was no money and there is no money, and I would be lying if I say I enjoyed my Christmas," he said. "I also see that in the new year it will be worse. We don't even know how we will pay school fees for the children. There is no bright future for us." Jane Marimo Stovring an Afro-Jazz singer and businesswoman said her Christmas was good as her business was overwhelmed with clients. "We run a lodge and it was fully booked. We were actually turning away some clients," said Stovring. A social worker from London, Lillian Adani, said the Christmas mood this year was different from the previous years she has come home. "The mood this year was very low," said Adani. "In the previous years there were lots of activities, but this year when I came there was nothing of that sort. People were subdued and quiet; there was no Christmas at all. I had to bring Christmas to the people. "I am not sure if people did not have the money or they just wanted to be quiet, the atmosphere was not even a Christmas are." She said that this was a sign that it was going to be tough for the people. "I heard people saying Christmas is over its back to reality now, they see that the future is bleak. And they see that there are no rains again, that makes it worse for the people." A pastoral letter released by the Zimbabwe Catholic Bishops early this month entitled A Proposed National Agenda for Restoration and Peace in Zimbabwe Following the July 2013 National Elections" said the political fault lines and their impact on all aspects of the lives of Zimbabweans are set not only to deepen, but also to stand in the way of progress and ultimately in the way of peace. "Our industrial sites carry the appearance of ghost towns because the once-vibrant manufacturing sector is now largely moribund," reads part of the letter. "The dignity of our people has been severely eroded as they have become reduced to sellers of cheap goods and products at street corners in our cities in order to survive. "Daily water and power cuts, shortage of medicines, equipment and professional personnel in our hospitals, chaos and carnage on our roads, raw sewage flowing in the streets of our towns and cities — the list of what reduces us as a people, our dignity and our hope for a better life is long."