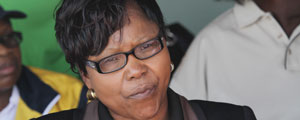 ZANU PF has added its weight behind calls by women's empowerment lobby groups to impose stiffer penalties on perpetrators of sex crimes.
VENERANDA LANGA,SENIOR PARLIAMENTARY REPORTER
The issue came up at the party's annual conference in Chinhoyi over the weekend with leaders expressing concern over the increase in cases of gender-based violence.
"The party is perturbed by the growing incidents of gender-based violence against women, especially as exemplified by the unprecedented spate of rape cases including horrific sexual assaults against children," the party said in one of its resolutions.
"Government should impose punitive penalties to curb the alarming increase of perpetrators of rape and sexual abuse and further provide therapy for the victims."
During the 16 Days of Activism Against Gender-Based Violence campaign which ended last week, Women's Affairs, Gender and Community Development minister Oppah Muchinguri proposed that rapists be given a minimum sentence of 20 years.
This comes amid reports that 68% of women in Zimbabwe suffered from gender-based violence perpetrated by men, although men have also complained of being abused by their spouses.
A recent survey by the Zimbabwe National Statistics Agency has revealed that about 2 400 gender-related violence cases were recorded last year with women as the main victims.