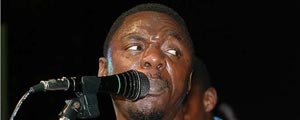 City Sports Centre
The weekend kicks off with a promising thriller as Jamaican reggae star Sheldon Campbell aka Turbulence stages a show at City Sports Centre. The event dubbed King of Dancehall will also see local musicians battling it out for the R10 000 prize money.
Entertainment Reporter
Chitungwiza Aquatic Complex
It is the clash of the titans at Aquatic Complex tonight with superstar Oliver Mtukudzi performing alongside Alick Macheso, Jah Prayzah, Douglas Chimbetu and Madhonza Makuru tonight. Book Cafe
Mokoomba bid home fans farewell as they leave for the United Kingdom to perform at the Songlines Awards presentation. The group will share the stage with Chikwata 263 tonight. Poets invade the venue on Saturday at the monthly House of Hunger poetry slam. This month participants will be tackling the theme of gender-based violence.
Harare Gardens
Tomorrow Audius Mtawarira, Chikwata 263 and Shinsoman perform at the launch of the Harare Countdown Festival starting at 2pm. Glen View 3
Magamba Network celebrates its sixth anniversary with a Peace In The Hood concert at the terminus tomorrow afternoon. Performances will come from Nu Alliance, NTM, Russy Amplifaya, Cynthia Mare, FIO, Skrypt, Nib Crochi and Steel Hearts among other artistes.
7 Arts Theatre
Breakdancers battle it out for the R15 000 prize money at the Break Down 4 Saturday night.
Plaza de Castilla
Jah Prayzah engages Jean Masters for a show at Plaza de Castilla in Greencroft tomorrow evening. Extra Mile Leisure Spot
Jah Prayzah entertains the Glen Norah, Southly Park, Hopley and Ushewokunze folks with a new concept titled Colour Blocking. The concept is aimed at provoking the comic side of fashion. Jah Prayzah will be supported by Talking Guitars.
Jazz 105
Forgotten jazz musician Tanga WekwaSando returns to the music scene after a long sabbatical leave with a show at Jazz 105 tonight. He is supported by Diana Samkange, who of late has been actively pushing her brand at the same venue. DJ KayCee entertains revellers at the launch of the Beer Bucket Promotion tomorrow, while Sunday will be After Bhora Party with a resident DJ.
Mega 1 Bar
Alick Macheso returns to Mega 1 Bar on Sunday. The venue is often filled to the brim, but Macheso and team believe they can do without soccer's diversion this off-season with a family show.
Hwenje's Village
Peter Moyo performs at Hwenje's Village, Glen Norah B, tonight. Tomorrow he gives the baton to New Generation Dance Group.
Dandaro Nite Club
Dandaro at Cheviot in Waterfalls this weekend presents yet another dance affair with Zoey Sifelani performing tonight. She leaves the stage for Classic Raiders Dance Group tomorrow who in turn make way for Sweet Angels on Sunday.
Sakubva Tavern (Mutare)
Sulumani Chimbetu invades Mutare with a performance at Sakubva Tavern tomorrow. The suburb has often been left out as entertainers scramble for gigs in the central business district of the diamond mining town.
Pick and Save (Mutare)
Sungura ace Alick Macheso performs at Pick & Save in Mutare tomorrow evening. The venue has turned out to be one of the favourites for many artistes and revellers.