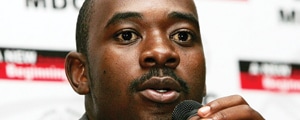 DECEMBER 22 is Unity Day in Zimbabwe. Sadly, it's just unity on paper and not in our attitude and national deportment.
BY NELSON CHAMISA
Contrary to the reality of our circumstances, Unity should be the currency in our speeches, actions and national events. We must be united rather than divided by all things national. We must adorn that Zimbabwe first mindset. Unity should transcend colour, tribe, gender, region and parties to evoke and stir up a patriotic feeling and sense of national obligation to sail our nation into a common destiny of peace, pride, prosperity and global stardom.
It is possible.
An incisive audit, survey and introspective reading of the input of citizens into the Constitution of Zimbabwe gives an outline of what the people want and expect in the matrix of unity and governance. People want a unity of purpose and action. That celebration of diversity and adversity together building national profit out our differences.
The great people of Zimbabwe want a nation that is united in honouring its history, its forebears and its liberators. Yes, a salute and honour in unity to our fathers and mothers, brothers and sisters who sacrificed all for all to liberate our beloved country from the manacles and shackles of deprivation. We are the legatees to a hard fought liberation struggle and indeed the legitimate heirs to the fruits of war of independence. We are the proud children of the struggle. We are a people of the struggle.
Unity is better defined by our confluence and conference on the national agenda and celebration of our national institutions, the police, military, prisons service, national teams in sport, national airline, Parliament and our court system.
Unity is about a nation that respects its diversity, difference and strives to entrench democracy, rule of law and good governance. A nation that recognises its distinctness by culture and tradition and cherishes equality, freedom, peace, patriotism and hardwork. A nation in unity acknowledges the supremacy and sovereignty of Almighty God. A united country is a nation guided by both the spirit of Revolution and Revelation. The people of Zimbabwe want a unitary and Democratic republic, not a monarchy or any system akin to a monarchy in practice. They want to be governed by law and not by man — the supremacy of Constitution. People in unity want strong institutions not strong men.
The patriotic and unity yearning Citizens of mother Zimbabwe expect the following values to be the national signature of how we govern and are governed, namely the rule of law respect for fundamental freedom and rights, equality including gender equality, good governance through a melting point, meritocratic leadership and deployment, democratic political system, free and fair elections, and orderly transfer of power following elections, devolution and decentralisation of power, authority and responsibility. This is the meaning of a nation in unity.
The unity-loving and peaceful people of Zimbabwe want all Zimbabwean languages to be recognised, none is inferior to the other. Apart from good governance the people in unity are evinced by dint of a foreign policy that protects Zimbabwe's national interest, respects International Law and co-existence with other nations and promotes regional and pan Africa integration. People want and expect development through private initiative and self-reliance, good policy on agriculture and commercial and industrial activities, balanced development of all areas and regions of Zimbabwe.
Zimbabweans want upliftment plus employment creation through entrepreneurship, food security, if not surplus, and preservation of culture, fair regional representation, protection and advancement of children, youths, women, disabled persons, the elderly, our war veterans.
Unity depicts a people and a country with labour relations that promote and reward those who drive our farms and factories — our workers.
People of Zimbabwe define unity to mean that which drives the family unit to be protected as they have always known it. Zimbabweans want the best education, world-class health services, decent shelter, superclass social welfare system, world class highways and a coherent legal aid programme, sporting and recreational facilities.
The people want dual citizenship to enable them to go out into the world and fend for their families without fear of losing their citizenship by birth or being disenfranchised. They want our brothers and sisters from neighbouring countries who have loved and worked for Zimbabwe since time immemorial, to be part of the country's cizenry fabric and become citizens of this beloved country.
Zimbabweans want all the fundamental rights and freedoms to be observed and in particular they do not want to be arrested at the whims and caprices of anyone or to be tortured and dehumanised. They want personal security assured by freedom from all forms of violence whether from public or private sources, put simply, Zimbabweans want peace, and they no longer want their homes to be searched without reason or their property.
Fellow citizens want a free media and access to information. People want fair and safe labour practices and standards, and to be paid a fair wage when they are employed. Brothers and sisters want freedom of movement, simply put, they want to obtain passports and identity cards easily and quickly. Your ICTs to and for everyone. They want to enjoy their full political rights through free and fair election to stand for public office and hold such office. They want protection from unlawful deprivation of their property and possession.
People have said Jambanja is now out forever. They want protection of the environment. People want mechanisms for meaningfully enforcing the fundamental rights and freedoms.
The people have said they want a President who does not rule forever. One who is there for no more than 10 years at most and gives others a chance to run the country as well.
Zimbabweans have therefore rejected the long years of the same. They want a President and Vice-Presidents and Ministers who are accountable to them and the Constitution — a delivering government.
Citizens want a Parliament which is responsive to their needs playing its developmental, oversight and watchdog roles in national governance meaningfully, no more a number stamping Parliament.
The people have said they want an electoral system that gives them freedom in exercising the ballot and choosing who they want through a transparent, secure and verifiable electoral system. They want their judges to be independent institutionally and in person. They want judges to administer the law fairly, whether one is MDC or Zanu PF or Mavambo/Kusile/Dawn, poor or rich, tall or short.
People want quick dispensation of justice by their judges. They would want judges not to dabble in politics and become partisan. They want their judges to be chosen without political guidance or interference, but for their competency ,integrity and chosen by an independent Judicial Service Commission. One just has to read section 200, and 208 to witness how the people of Zimbabwe have rejected partisanship on the part of those who receive salaries from the public resources.
They want a functioning human rights commission, a functioning Electoral Commission and a National Peace and Reconciliation Commission. Our people want peace and respect for their dignity.
Our people have rejected corruption and have established for themselves an anti-corruption commission, to contract the scourge of corruption that has devastated the economy and their lives.
To cement our unity in diversity, he people expect a national prosecuting authority that will operate independently and whose officers will, like our esteemed men and women in uniform and civil servants not to act in a partisan manner.
One reads section 261 to clearly understand that the people of Zimbabwe reject partisanship in public administration. Citizens have said they are tired of an overly centralised government administration they want powers to govern themselves at local levels; people want devolution of governmental resources and responsibilities.
In their conception of genuine unity, our parents and grandparents want traditional leaders according to their customs who are not imposed on them by contaminated, corrupted politics of one political party or misled by Central government. The people want the restoration of a benevolent caring traditional leadership which does not force them to attend political rallies, in fact they want apolitical chiefs and headmen. Section 281 guarantees to them such honourable chiefs and headmen.
Unity is, for the people of Zimbabwe, the adoption of a charter of governance that insists in the constitution the entrenchment of the basic values and principles governing public administration — professionalism, efficiency, development orientation, accountability, transparency, merit. People want public officers who respect them and serve rather than rule them, they want them — to be objective and impartial in decision making, honesty and accountable, committed and disciplined.
They look to Parliament passing a law to limit the terms of office of parastatal heads, chief executive officer chapter 9 is on all this. The great people of Zimbabwe want clear public finances managed transparently and with accountability, they want nationally raised revenue to be shared equitably between central government and provincial and local tiers of government, they want government expenditure to be directed towards development especially of marginalised areas.
They want limits on State borrowings so that future generations are not enlightened by reckless borrowing and expenditure by preceding generations.
To be a united nation, we need the independence and multiplicity of the media. We cherish the decency of the journalistic profession. We need a menu of a variety political parties. Political parties may constitute a thesis certain instances and some, an antithesis, but the nation is in desperate need of a synthesis narrative above and beyond the balkanised compartments and cocoon we often locate ourselves. That which unite us far exceed that which may separate us.
As Zimbabweans, we deserve a burial of the ugly past and the birth and ushering in a beautiful new era of respect and justice.
Let there be unity on the need for free and fair elections. Let there be unity on the desirability of an accountable and transparent administration. Let there be unity of the people not a few politicians. Real unity not fluke unity!
Nelson Chamisa is MP for Kuwadzana East. He writes in his personal capacity