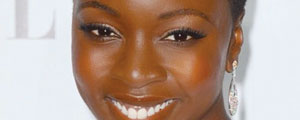 AWARD-WINNING Zimbabwean actress and playwright Danai Gurira's play The Convert opens today at Prince Edward School's Beit Hall and runs up to December 24.
By Entertainment Reporter
Directed by American Adam Immerwahr, the play explores the untold cultural and religious collisions caused by colonialism in Southern Africa and the reverberating effects still felt in the region.
Set amid the colonial scramble for Southern Africa in 1895, The Convert tells the tale of Jekesai, a young girl who escapes a forced marriage arrangement with the help of a stalwart black African catechist, Chilford Ndlovu.
Caught between her loyalties to her family and culture and indebted to this new Christian God, she becomes Chilford's protégé, but when an anti-colonial uprising erupts she is forced to decide which side she will choose — and where her heart truly belongs.
The United States-based actress said all was set for the opening of the play adding that she was fascinated to have worked with the local cast.
"Zimbabweans come and enjoy a riveting and thought-provoking play that explores inter-woven themes of personal identity crisis, African culture, Christianity and colonialism," Gurira said.
"For now the play features local actors like Gideon Wabvuta, Rumbidzai Karize, Michael Kudakwashe, Charmaine Mujeri and Tafadzwa Bob Mutumbi among others after having worked with the American cast previously."
The play is currently being featured at the Wilma Theatre in the Philadelphia, Pennsylvania in the US. It has also won the 2012 Stavis Award, the 2012 Whiting Award, the 2013 LA Drama Circle Award, and The Edgerton Award for New American plays and Six Los Angeles Ovation Awards.
It was commissioned by Centre Theatre Group in Los Angeles and premiered at the McCarter Theatre in Princeton, New Jersey. The play writer is a graduate of New York University's prestigious Tisch School of the Arts. Gurira has guest starred in international plays that include Life on Mars and Lie to Me among others.
Back home, she has featured in a number of local productions that include her award-winning play titled In the Continuum that was staged at Theatre in the Park and other venues in the country.