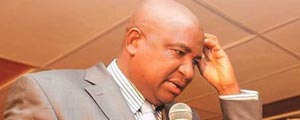 THE year 2013 had numerous intriguing events particularly in the run-up to the July 31 harmonised elections and aftermath of the polls which were disputed by the two MDCs as they alleged "unprecedented rigging" by Zanu PF.
Phillip Chiyangwa
The flamboyant businessman lost the Chinhoyi legislative seat to Peter Mataruse of the MDC-T despite his spirited efforts in which, as is characteristic of him, he splashed out cash and other goodies to the electorate, but all in vain.
After his crushing defeat, President Robert Mugabe took a jibe at his nephew, saying he lost because he was very pompous.
But Chiyangwa suddenly shrugged off the pain of defeat and vowed to focus on making money. By the end of the year, he was locked up in a dispute with his wife Elizabeth, who is demanding millions of dollars and shares in his business empire as a divorce package. Chiyangwa responded by firing a salvo at Elizabeth's lawyer, accusing him of unprofessional behaviour and misrepresenting his wife.
Jealousy Mawarire
Mawarire, who claimed to have used his rights as a citizen, dragged Mugabe to court forcing him to announce election dates and will, according to many Zimbabweans, go down in memory lane as a rabble rouser.
Although he has denied any links with Zanu PF, many observers say he was used by Mugabe's Zanu PF party to force an election date through the courts to avoid reforms required by the Global Political Agreement, a Sadc-negotiated power-sharing pact between Mugabe and rivals, Morgan Tsvangirai and Welshman Ncube.
Kisinoti Mukwazhi
He is president of the Zimbabwe Development Party. Little is known about him except that he is a former Zanu PF supporter who formed his own party. He first contested in the 2008 general elections where all his eight candidates lost. He was spectacular for reiterating Zanu PF policies and issuing media statements, most of them in support of Mugabe, yet he was an opposition leader.
Munyaradzi Kereke
The Bikita West MP who defied a position by Zanu PF to step aside and give way to preferred candidate Elias Musakwa was also in the thick of things throughout the year. Zanu PF went on disown Kereke for insubordination, but the MP proceeded to take his case to the Constitutional Court, arguing that he had already been fired by the party before the polls and had thus stood as an independent.
Away from his fight for political office, Kereke revived his feud with his former boss at the Reserve Bank of Zimbabwe, ex-governor Gideon Gono. A case in which he accuses Gono of gross corruption is still pending at the courts. The Kereke/Gono feud climaxed early this month with the suspension of The Herald's editor Caesar Zvayi over the manner in which the paper had handled the story.
Egypt Dzinemunhenzva
Leader of the African National Party who has contested for Presidency since 1990 was a disappointed man this time around as he failed to comply with nomination court requirements. He had promised to end Mugabe's 33-year hold on power despite his dismal performance in the previous elections.
Happison Muchechetere
The suspended ZBC chief executive was in the news for all the wrong reasons after he reportedly approved his salary and perks amounting to $40 000 per month while his staff went without pay for over six months.
Mutumwa Dziva Mawere
The former Shabanie-Mashaba Mines owner won a case against registrar-general Tobaiwa Mudede for a Zimbabwean passport after he was denied one as he was a South African citizen. After winning his case and acquiring a new identity card and passport, he went on to register as a voter. Mawere, a former staunch Zanu PF supporter, issued various statements endorsing MDC-T leader Morgan Tsvangirai for President while attacking Mugabe in the run-up to the July 31 polls.
He went quiet immediately after he was arrested in South Africa for fraud involving about R4,5 million and could not raise bail for some weeks. After his release he has faded into thin air.
Nigel Chanakira
The former astute banker lost his Kingdom Bank to AfrAsia Holdings reportedly over imprudent financial management. Earlier, Chanakira lost in a business deal with Meikles Africa Limited and roped in the government when it appeared he would lose all that he had worked for in his entire life — the Kingdom brand.
He was involved in the murky Kingdom Bank/Valley Technology million dollar deal that never was resulting in his ouster from his former company. He is now Zimbabwe Investment Authority chairperson, a position he was appointed to by government.
Ignatius Chombo and Jabulani Sibanda
The two Zanu PF politicians' call to rename Victoria Falls was enough to brand them noisemakers. They did not take into consideration the impact their statements would have on the country's tottering economy. In fact, their statements and push to rename sites like Victoria Falls borders on the extreme.