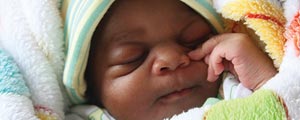 THERE was a babies galore on Christmas Day in Harare with 119 births recorded at the city's major hospitals.
By Feluna Nleya Staff Reporter
The busiest of the hospitals was Harare Hospital which topped the list with 42 babies being born on Christmas Day, followed by Parirenyatwa which had 29 babies sharing the birthday with Jesus Christ while West End Hospital had two such special babies.
At Harare Hospital 20 boys and 22 girls were delivered.
The hospital's maternity matron Dade Getrude Pedzisai said: "The mothers are very excited. And, fortunately we did not have any stillbirths. We also had a set of twins. The mother did not know she was carrying twins. She only knew as she was giving birth and she is very excited.
"The biggest of the babies' weight was 4,4kg," she said.
Spokesperson for Parirenyatwa Group of Hospitals which includes Mbuya Nehanda Maternity Hospital, Jane Dadzie said: "We had 29 babies born on Christmas Day, 14 of which are boys while 15 are girls. The girls include a set of twins."
Chitungwiza General Hospital spokesperson Audrey Tasaranarwo said 15 babies were born on Christmas Day with nine of the babies being boys. Belvedere Maternity Hospital had 11 babies; four boys and seven girls. West End Hospital had two baby girls.
Eleven babies were born at Edith Operman Maternity Clinic in Mbare; five of whom were boys while six were girls.
Avenues Clinic had four babies — three boys and one girl. Baines Maternity had five Christmas babies, two boys and three girls.