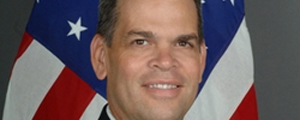 THE United States (US) has maintained that it will confiscate money from the sale of Zimbabwe diamonds if companies dealing in the gems carried out their transactions using the US financial system.
STEPHEN CHADENGA,OWN CORRESPONDENT
Speaking on the sidelines of a tour of Naletale Ruins in Somabhula on Wednesday, US ambassador to Zimbabwe Bruce Wharton said his country had no intention of influencing the European Union (EU) to change its stance on the country's gems. However, Wharton said the US law would apply on Zimbabwe's trade on diamonds in Europe, if those transacting in the gems did so using the US financial system.
"We will not impose our powers or position on the EU, but if companies attempt to do business (on Zimbabwe's diamonds) through the US financial system, US laws shall apply," Wharton said.
The US government has maintained that its Office of Foreign Assets Control (Ofac) law that stipulates the confiscation of money belonging to entities covered by sanctions under the Zimbabwe Democracy and Economic Recovery Act (ZDERA) shall continue to be applied.
In September, the EU lifted sanctions on the Zimbabwe Mining Development Corporation and the Minerals Marketing Corporation of Zimbabwe to allow free trade of Marange diamonds.
Meanwhile, Wharton handed over a $64 000 donation to the National Museums and Monuments of Zimbabwe to restore the collapsed walls at Naletale Ruins.
"To build and sustain good relations, we Americans must first understand and appreciate Zimbabwe's own culture and history. . , we need to recognise the powerful influence this history has on modern Zimbabwe," Wharton said.