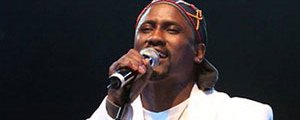 SOUTH African musician Ringo Madhlingozi heads to Harare for a gig scheduled for the end of the month at City Sports Centre. The gig dubbed Thank You Zimbabwe will see Ringo re-uniting with long-time friend Superstar Oliver Mtukudzi for the show slated for November 29.
Report by Entertainment Reporter
The duo will be supported by the youthful combination of Winky D (Wallace Chrumiko) and Jah Prayzah (Mukudzei Mukombe). While Ringo and Tuku's crowning moment will be the performance of their duet Into Yami it will be impossible to ignore Winky D and Jah Prayzah who can easily be classified as two of the most vibrant artistes on the local scene.
In a space of two years Jah Prayzah has risen from being a young musician opening for the likes of Progress Chipfumo and begging promoters for recognition to be at the helm of local music.
Similarly Winky D, in an almost similar space of time, has risen to be a voice of reason from just a mere noisy chanter. But apart from all this, one of the organisers of the gig Josh Hozheri says this will be an event to show his gratitude to Zimbabwe for a successful music promotion year.
"The year has been very eventful on different levels of our business and as we head for Christmas, this is our way of saying thank you to the people that supported us."