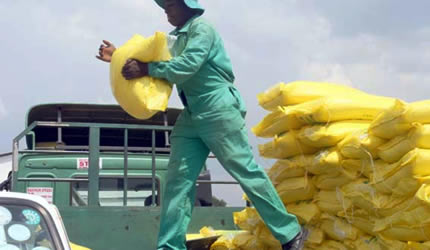 ZIMBABWE Fertiliser Company (ZFC) Limited says the liquidity challenges and late repayments of debts are affecting the company's ability to bring in raw materials for the production of fertilisers.
Victoria Mtomba,Business Reporter
In an interview with NewsDay, ZFC managing director Richard Dafana said the company had started to produce more compound fertiliser and had imported ammonium nitrate to add to local production from Sable Chemicals.
"Liquidity challenges and late repayment of debts have affected our ability to bring in raw materials on time. In addition large orders were placed late resulting in logistical challenges to bring in sufficient quantities of raw materials. Also our manufacturing plants have been affected by power cuts," Dafana said.
He said the company was operating at 25% capacity.
Dafana, however, did not disclose the amount required by the company to produce the fertilisers at full capacity.
"We require full payment for all orders placed as well as adequate power and improvement in the movement of material by rail. We also require early settlement of debts by our customers," he said.
Dafana said farmers should make farming preparations early and settle their debts on time.
According to the Zimbabwe National Chamber of Commerce, Sable Chemicals requires more than $50 million for procurement of raw materials and for the production of fertilisers for the 2013-14 agriculture season.
The country requires a total of 150 000 tonnes of ammonium nitrate and 150 000 tonnes of compound D fertiliser for this season. The government so far has availed
$161 million support to 1,6 million households in the country. The funds will be used to buy seed, fertiliser and lime. The funds have been channelled towards old resettlement, small-scale and A1 farming areas for the 2013/14 farming season.
The money availed by government is still below the $2 billion that is required for the resuscitation of the agricultural sector. The funds will be used to supply households with 10kg of maize or grain seed, 50kg of compound D fertiliser, 50kg of ammonium nitrate fertiliser and 50kg of lime.