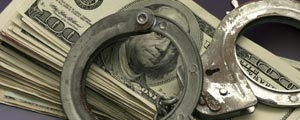 TWO suspected Harare fraudsters appeared in court last Friday charged with defrauding a finance company, Cover Link Finance, of thousands of dollars through a dubious loan scheme.
SENIOR REPORTER
Ishmael Mutamangira (38) of Unit M, Seke and Itai Chiwanza (34) of Zengeza 4 in Chitungwiza were remanded out of custody to today on $50 bail when they appeared before Harare magistrate Donald Ndirowei.
Prosecutor Sharon Mashavira told the court that in May this year, Cover Link Finance placed newspaper advertisements advising that they were offering loans to civil servants and private company employees.
Allegations are that Mutamangira, who is the director of Skyward Investments, responded to the advertisement.
On May 28, the two allegedly connived to defraud the complainant, represented by operations manager Media Gamu (30).
Mutamangira allegedly entered into an agreement with Gamu so that the latter would give the accused person's employees loans on a stop order facility.
On different dates, Chiwanza, who was employed at Coverlink as a marketing agent, together with Mutamangira, misrepresented to the complainant by producing employment confirmation letters for a number of individuals and fraudulent payslips for the said individuals, the court heard.
Mutamangira would then refer people that would have "qualified" for the loans to Coverlink to apply for various loan amounts, it was alleged.
Further allegations are that Chiwanza, working in cahoots with Mutamangira, would then facilitate the verification and clearance of the loan application forms.
Acting upon the misrepresentations, the complainant would then act on the forms to her prejudice. The offence came to light in October when Gamu realised that Mutamangira was not remitting monthly repayment installments as per agreement, it was alleged.
Mashavira told the court that Gamu then approached Mutamangira at the supplied address only to discover that he had no employees at all.
When she made follow-ups on the people that purportedly applied for the loans she also discovered they were non–existent.
She then made a police report and the accused were subsequently arrested. She was prejudiced of $24 100.