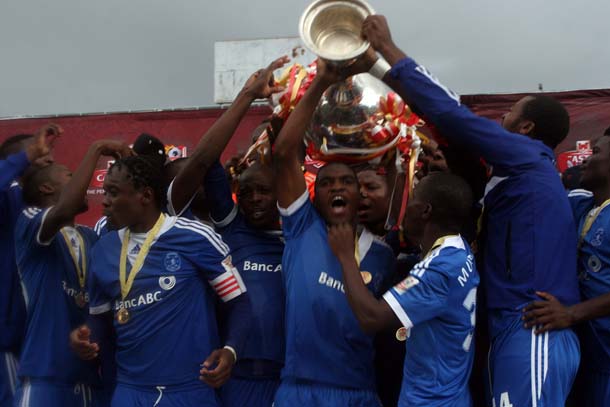 PREMIER Soccer League (PSL) champions Dynamos have been cleared to play in the Confederation of African Football (Caf) Champions League after meeting the minimum requirements of the club licensing statutes.
BY SPORTS EDITOR
Caf had threatened to ban all clubs that do not meet the minimum requirements from inter-club competitions in a bid to enforce the statues that are also enshrined in the new Zifa constitution.
Zifa communications manager Xolisani Gwesela said yesterday: "Dynamos meet the minimum requirements of the club licensing statutes in that it has a constitution, executive committee, training ground, junior policy and a qualified coach."
In an interview in early October with NewsDay Sport during the Soccerex event in Durban, South Africa, Caf secretary-general Hicham El Amrani said: "We have been pushing federations to ensure they create the legal basis or framework to ensure the club licensing works as you know federations are the ones that have to issue licences, not Caf. But Caf has the role of verifying that those licences are based on the different requirements that we have.
"By the end of the year, federations will have to do a minimum of requirements which we have been pushing for two years — for example, having an update of the statutes including the codes for the club licensing, setting up the different organs that will issue and resolve those licences and then have an understanding with the clubs about implementing those licences.
"If this is not done by the end of the year, the executive committee will reserve the right to eventually decide to reject the participation of some clubs."
The leadership of the 20-time champions and principal sponsors BancABC are in discussions over funding their African safari and will also meet today to officially advise the PSL on their position, although indications are that they will take part.
Highlanders remain banned and will serve their last term of a three-year ban next season, leaving How Mine, by virtue of being Mbada Diamonds Cup finalists, with the ticket to the Caf Confederation Cup.
The How Mine management is yet to decide on their participation ahead of the Saturday deadline and if they decided not to take up the place, Harare City, who finished in third position in the league, could be asked to fill in.
Mbada Diamonds will subsidise transport and accommodation costs to the tune of $110 000 for the participant.