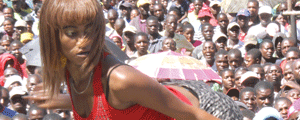 DOCTOR Tawanda, producer of Beverly Sibanda's debut album Tapinda, has watered down speculation that he could be creating a Zimbabwean version of Botswana's Slizer.
Silence Charumbira
Doctor Tawanda, who is known for remixing Alick Macheso's songs, also produces for Slizer and appears to be risking creating a Blessing Shumba-Mathias Mhere scenario.
Shumba and Mhere have the same producer and when the latter came to the scene, he was regarded as a copycat because of the similarities of their music.
Although the two have avoided a public spat with the producer, the development caused problems for Shumba on the market. Doctor Tawanda said with Beverly, he had fused different genres unlike with Slizer.
"I have produced all Slizer's four albums, including the forthcoming one, which should be out in two weeks and she is happy with what we have done," he said.
"She has listened to Beverly's music and she likes it.
"If there was a problem, she would have told me.
"Beverly, on the other hand, stressed the point that she did not want her music to sound like Slizer's.
"Slizer sings House Kwasa while with Beverly, there is a bit of Rhumba, Reggae and dancehall among other genres. What can only be the same is the tempo."
Despite his claims, it appears conflict is inevitable between the two women.
Beverly will share the stage with Slizer on October 20 at Harare Gardens for the Tongai "Dhewa" Moyo Commemorations, which puts the two on a collision course.
But, Doctor Tawanda is adamant and says the Zimbabwean has been empowered instead.
"When I approached Beverly, I told her it was becoming monotonous that she would always be dancing to Alick Macheso's music.
"Now, she will be performing her own music, which is a great thing," Doctor Tawanda said.
Beverly launched her album at City Sports Bar, Harare, on Friday at an event attended by a sizeable crowd.
First on stage was Peter Moyo who had the crowds grooving before he handed the reins to Beverly.
Her set was unconvincing, probably from the inexperience as evidenced by the shaky voice.
Shiga Shiga, who collaborated with Beverly on the title track Tapinda, however, seemed composed and saved the day.
She was followed by Doctor Tawanda, whose performance was polished.
Ageing Freddy Gwala later came on stage, but he seemed to have suffered from the lukewarm performances by Beverly and Doctor Tawanda as people had trekked out.